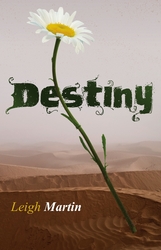 "There's a lot you don't know about me, Ivy. There's a lot I don't even know about myself."
Metairie, LA (PRWEB) March 3, 2010
This new fantasy release for young readers tells the story of Daisy, a large creature with a pale face, yellow spots and a green vine-like tail with a bud at the end instead of fur. For most of her young life, Daisy has lived with a family of lions who adopted her when they found her in the wild. Although Daisy resembles a lion somewhat, she is really quite a different creature. Unlike the rest of her family, she prefers fruit to meat, and her body is covered with yellow spots that have recently begun to glow! One day, after hearing what really happened the day she was found, Daisy embarks on an epic journey to solve the questions that have haunted her for so long. Her beloved adopted brother Ivy follows her and together the two creatures begin an action-filled adventure that will take them to places they could only have imagined.
Destiny, published by Dog Ear Publishing, is the first novel by teen-age author Leigh Martin, who hopes to offer her readers both fantasy entertainment and the opportunity to experience the feelings one has when they find his or her own true identity. Leigh is currently a high school junior in Metairie, Louisiana. She is currently working on another novel in addition to a sequel to Destiny.
For more information, visit Leigh Martin
Destiny
Leigh Martin
Dog Ear Publishing
ISBN: 978-160844-366-6 196 pages 14.95US
Available at Ingram, Amazon.com, Barnes & Noble and fine bookstores everywhere
About Dog Ear Publishing, LLC Dog Ear Publishing offers completely customized self-publishing services for independent authors. We provide cost-effective, fast, and highly profitable services to publish and distribute independently published books. Our book publishing and distribution services reach worldwide. Dog Ear authors retain all rights and complete creative control throughout the entire self publishing process. Self publishing services are available globally at Dog Ear Publishing and from our offices in Indianapolis, Indiana.
Dog Ear Publishing – self publishing that actually makes sense.
# # #