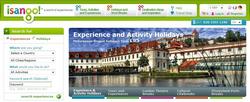 (PRWEB) July 22, 2009
Travel experiences specialist isango! has just launched a new, innovative site providing consumers with the ability to mix and match accommodation and destination activities to create their own holidays. Users can select from or customise holiday suggestions such as Architecture in Barcelona, Romantic Paris, Art in Amsterdam or Mythical Rome, or create their own combination from scratch.
In addition, customers who choose to buy more than just one experience will benefit from an immediate multi-save discount which increases the more you spend. The site has also gone through a complete redesign for a fresher and faster user experience, including new "destination boutiques" for top holiday destinations recommending attractions, things to do, when to go and providing customer tips to help users create their perfect experience driven holiday.
Classic isango! promises of fully inclusive, transparent pricing and best price promise still apply to accommodation products. With one of the largest global inventories of activities and things to do, isango! is the best place to create experiential holidays for short and long durations to meet the specific interests of those who want more than sun and beach.
Ranjan Singh, isango! CEO and co-founder, said: "Customers were asking us to take our experience-led travel offering to the next logical level by launching experiential holidays. Now when you ask for a romantic weekend in Paris you don't get flogged with just hotels... you can get recommendations for a truly romantic experience! Additionally, we wanted to redesign the site for improved user experience taking into account our customer feedback and the latest best practices in usability."
The new platform is currently available for English speaking customers and it will be progressively rolled out to include German and French.
About isango:
Don't just travel the world... Experience it!
isango! (isango.com) is a market-leading provider of global travel experiences. Launched in late 2006 by former consultants and executives from Expedia and Cendant/ ebookers, it provides consumers and business partners with an authoritative online resource for planning and booking unique experiences and activities.
The site gives the low-down on each country, providing detailed information about the destination and the activities as well as suggested itineraries. With the ability to tailor make trips according to personal interests and preferences, isango! provides holiday makers with easy online access to previously hard-to-book products.
isango! offers more than 12,000 activity product options in 60 countries and not only sells direct to consumer but also via partner companies such as airlines, car rental firms, hotel groups and travel portals.
For further information, please contact isango! Media department at media-at-isango-dot-com.
###