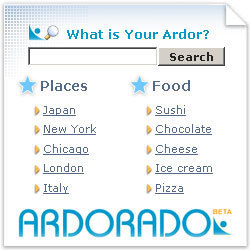 Our ultimate goal is to create and nurture a community of passionate enthusiastic people around all the resources we produce. The site offers a unique opportunity: quickly find all basic and current information about the things you like, all on one page
New York, NY (PRWEB) July 15, 2008
Semantic Communities LLC, a new start-up venture, launched a beta version of Ardorado.com - a new portal and community dedicated to human 'ardors' - hobbies, interests, passions, things people love to do, to have and to enjoy.
Research shows that people mostly surf the Internet looking for information related to their interests. Usually, they start by using a search engine. A good approach, if you are ready to spend hours of your precious time going through each result to find what matters most.
Sites such as Wikipedia are at times just too 'academic' and certainly do not point to the most current information about your interests. Especially if you are looking for something rather open-ended like the best blog, the best website, the best news feed about, let's say, Ford Mustang, or dog training, or want to learn about a new activity that has captured your imagination, for example, transcendental meditation or needlepoint. You may have to visit dozens of sites to find information you are looking for... eventually. Ardorado.com can help everyone save several hours of valuable time, and put fun in web surfing while connecting people to the most relevant online resources about their interests.
The site's creators claim that, so far, they have identified 470,607 things that people name as their interests. This data was extracted from millions of open personal profiles found at online communities and social networks.
Emil Freund, President of Semantic Communities, LLC, says, "We started developing our site about a year ago. Along the way, we have been surprised by the possibilities and the interesting and fun results one can get by thoroughly analyzing the multitude of open personal profiles. We continually catalog and organize this growing collection of interests. We crawl millions of web pages looking for current news, blog posts, web sites, and e-commerce opportunities -- all with the goal of sorting this mass of information by interest."
Ardorado.com is designed to help you keep track of your interests. This is the place to read the latest news and blog posts, find related web sites, share photos and watch video clips, take advantage of special promotions and deals all related to your area of interest.
Become a member and create a personal web page, add links, introduce your site or blog, post comments, ask for advice, establish yourself as an expert, meet new people, or simply browse and see what people like to do in their free time.
By design, and its on-line community oriented nature, Ardorado.com is a constant work in progress. Semantic Communities, LLC, utilizes several web 2.0 technologies like the MediaWiki platform with Semantic MediaWiki extensions to publish the site, well-known widgets and widgets created by the company to provide its members with the ability to rate, comment, edit and refine each page, as well as the opportunity to add new interests.
Emil Freund says, "Today we published only a small fraction of our data - 15,000 most popular 'ardors'. After we filtered, cataloged and thoroughly analyzed the universe of people's interests, we found some very interesting correlations between interests. These correlations open up entirely new avenues for communication, commerce, and just plain having fun. We believe we are the very first to make such information publicly and openly available."
The site's creators hope that a broad range of big and small companies, bloggers and website owners will utilize the open architecture of Ardorado.com as a means to promote their business by delivering their message, product or service directly to specifically targeted ardent and engaged audiences.
"Our ultimate goal is to create and nurture a community of passionate enthusiastic people around all the resources we produce. The site offers a unique opportunity: quickly find all basic and current information about the things you like, all on one page," says Emil Freund. "We welcome everyone to help us make Ardorado.com a vibrant and active community, a place where publisher and consumer collaborate to create the best content possible."
Semantic Communities LLC is a New York based web research and development company formed by a group of computer scientists and entrepreneurs in June 2007. The company's goal is to bring the promise and power of Semantic Web and Web 3.0 technologies to everyone's desktop and web surfing experience.
###