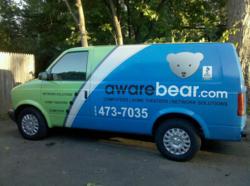 Aware Bear Computers goes green in 2012.
Rochester, NY (PRWEB) March 22, 2012
"The City of Rochester holds the highest murder rates in New York State, over the years many families have moved out of the City of Rochester to suburbia areas" mentions Leite Alves, a local business owner, entrepreneur and a member of the Pittsford Chamber of Commerce board of Directors in Pittsford.
After conducting a brief study about the downtown Rochester, Andre Leite Alves noticed many parcels of land that are not being used. "Many abandoned downtown homes become crack houses and then burn down", mentioned Alves.
The costs to rebuild the homes are usually too high and becomes a vacant piece of land" said Leite Alves from Rochester. The City of Rochester does hold regular auctions where the vacant land can be purchased at a $50 minimum bid.
Fifty dollars is a small price to pay for land that can be used to help the less fortunate and produce good quality, organic and pesticide free food for the Rochester children and many other City residents. Leite Alves is looking for other conscious business owners interested in participating in this social program. "The benefits of a program like this are unlimited" mentions Andre Leite Alves.
Andre Leite Alves is the owner and founder of Aware Bear Computers. Mr. Alves revolutionized the computer IT industry in the Greater Rochester area, by offering the first free computer recycling program in Rochester. For over 10 years Andre Leite Alves accepts computers, laptops, printers, Apple/ Mac products, and LCD, LED screens.
When Andre is not at Aware Bear Computers, he devotes part of his busy schedule working on community projects and helping the ones in need in the Greater Rochester Area.
Andre's main goal for 2012 is to purchase City owned land and start working on the Organic Vegetable Garden in Rochester New York. "It will take two to three years in order for the community vegetable gardens reach their full potential, the more people involved the faster and the more produce can be grown. Aware Bear Computers is the official sponsor of the Rochester New York Organic Vegetable Garden Project" said Mr. Andre Alves.
Anyone looking to get involved with Andre Leite Alves community projects can visit http://andreleitealves.com in order to get more information and find out how to become part of a wonderful project that will be helping many people in Rochester. Mr. Leite Alves from Rochester NY is a community leader in the Greater Rochester and encourages everyone to get involved and donate a little time in order to make a difference.
http://www.andreleitealves.com/andrealves/andre-leite-alves-goes-green-and-starts-an-organic-vegetable-garden-in-rochester/