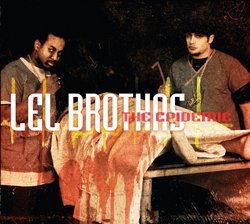 (PRWEB) February 8, 2011
Wade Martin has been working with the LEL Brothas since early 2006 at WM Studios with a subsequent début Album drop titled "Fresh Out the Root," on May 1st 2007. With "Fresh Out the Root" the LEL Brothas single "Dislocate" climbed radio and internet charts alike, being the #54 of the top 102 songs of the year for the Southwestern United States and #1 on the internet charts for back-to-back weeks in rotation. April 17th 2010 the LEL Brothas 2nd Album "The Epidemic" hit the shelves with record numbers propelling them into "The Epidemic National Tour," where they performed across the entire United States with Platinum Artists such as E-40 and The Game.
The LEL Brothas (DJ Clone & LBC) are now embarking on "The Epidemic World Tour," which will have them performing across the globe from mid 2011 until early 2012 with stops that include the Middle East with stops in 5 countries; Bahrain, UAE (Dubai & Abu Dhabi), Saudi Arabia, Lebanon and Jordan. After the Middle East the tour will pass through Europe and the orient. Embarking on "The Epidemic World Tour" is LEL Hype Man Calvin "CB5" Bowers (owner of http://www.Ghettopassradio.net) as well as, DJ Dizzy D, Choreographer Eric Aglia, Rapper Willie Beamin and Hip Hop group Fame N Glory, who just hosted their album release party with Young Money where Rapper Gudda Gudda was attacked by a fan who attempted to steal his "chain." DJ Clone stated in a recent television interview "Exactly! It's not just music to us; it's a movement, something that is bigger than us all! LEL Nation Whud up? LEL Republic Whud up?!" With LBC stating "We don't jus stand on stage, when people come to an LEL Show they get the whole experience, they are part of something, and now we get to take that Global! Get Excited The Epidemic is commin!" Be sure to visit http://www.myspace.com/lelbrothas for more.
The "LEL Brothas" have spent a lot of time in WM Recording Studios working on "The Epidemic." WM Studios was founded in Europe by Wade Martin in 1996, the company is a subsidiary of JWM Records and is held collectively by JWM Enterprises.
Wade Martin (http://www.wademartin.com) is an exceptionally prolific Super Producer, bilingual driven Renaissance. Co-owner of IME Records with DMC of Run DMC and Matthew Earl Jones. Business partners with Amar'e Stoudemire and Hypocalypto Records. WM designs his own recording studios, writes and orchestrates the successful business and marketing plans for his endeavors. Owner of the number seven recording studio in the world (http://www.wmstudios.tv). In addition, teaches some of the best producers and engineers to become even better at what they do. He's cracked the US top 40 which is the hardest record chart in the world to break and did this in as little as eight weeks. Wade is credited for playing over twenty different instruments. Wade also arranges, mixes, produces in his own recording studios and then orchestrates the distribution and promotion of his work, and others using his label "JWM Records."
The"LEL Brothas" is probably the most talented and captivating rap duo to have ever arrived on the scene. The JWM Records team is excited to start "The Epidemic World tour."
###