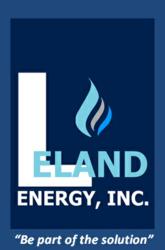 Henderson, NV (PRWEB) April 25, 2012
Leland Colorado Holdings, Inc., a subsidiary of Leland Energy, Inc., announces the completion of the second treatment on its Weld County well (Ranchers) #2 located in the Wattenberg Field. This well, drilled in March of 2011, was originally completed in the Codell formation, approximately 7800 feet total depth.
"It was the intention all along to treat the Niobrara formation at some point, and now seemed like the proper time," said Steve Thompson, President of Leland Energy, Inc.
He added, "After getting some history on additional wells, we felt more than comfortable making the financial commitment to go back in and treat this well. CalFrac Well Services Corp., a company out of Denver, Colorado, did an excellent job on designing and executing the frac job, and so far we are seeing an increase of up to 25 Bbls per day in additional oil and some increase in natural gas production."
This is one of 4 wells drilled by Leland and its partners in Weld County. The Company has additional locations in Weld County and Larimer County.
Leland's wells are located in the DJ Basin in Colorado known as the "Wattenberg Field," which the US Energy Information Administration ranks as one of the top 10 Wet Natural Gas Fields in the U.S. by their estimated 2009 proved reserves.
Companies like Anadarko, Chesapeake, Noble Energy, and Synergy Resources Corporation, to name a few, have large leased acreage positions in the area.
Leland will kick-off additional drilling over the next 30 days.
In addition to Colorado, has operations in Tennessee and Kentucky and is headquartered in Henderson, Nevada with an administrative office in Beverly Hills, CA. For additional information, call 1-888-LELAND-1 or visit http://www.lelandenergy.com.