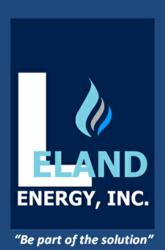 Henderson, Nevada (PRWEB) July 31, 2012
Leland Tennessee Holdings, Inc., a subsidiary of Leland Energy Inc., has begun treatment and drilling activity in Pickett County, Tennessee.
New technology paired with good old fashioned hard work has given new life to old oil wells in the state of Tennessee. "We have 7 old wells and locations for 5 to 10 "in-fill" drilling sites that we are very optimistic about," said Stephen M Thompson, President of Leland Energy, Inc. "With only 2 old wells treated and one 'new' well just going on-line, we have 1000 Bbls of oil picked-up and sold in the 1st full 30 days of production," he added.
Leland Energy, Inc. is working closely with Universal Well Services out of Allen, Kentucky for newly improved completion treatments that have greatly enhanced the recovery process. With 4 additional "old" wells and 4 more "new" wells scheduled for drilling and completion activity over the next few months, the projected monthly production is estimated to exceed 3000 Bbls per month. Production life on these wells is estimated to be from 15 to 20 years.
At any given time during the development of the lease, Leland works through a number of Tennessee contractors and personnel. There are approximately 7 to 15 people employed on the project in one capacity or another. "This is what we need more of," said Mr. Thompson. He continues, "More domestic production and more U.S. jobs created through increased and ongoing drilling and development activity."
Leland Energy, Inc. is a domestic oil & gas development company with over 35 years of oil & gas industry experience. In addition to Tennessee, Leland has operations in Colorado and Kentucky and is headquartered in Henderson, Nevada with an administrative office in Beverly Hills, CA. For additional information, call 1-888-LELAND-1 or visit http://www.lelandenergy.com.