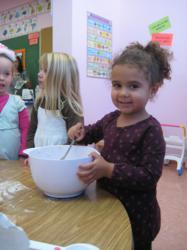 We try to emulate the atmosphere to how it is done in France. Mealtime is treated as a very special part of the day and children can learn how to respect and take pleasure in that time.
Los Angeles, CA (Vocus/PRWEB) March 01, 2011
March is National Nutrition Month®, created by the American Dietetic Association to promote healthful eating, by providing practical nutritional guidance and focusing attention on making informed food choices and developing sound physical activity habits*. While most schools all over the country are shirking their responsibility of healthier alternatives to lunch meals, Le Lycée Français de Los Angeles makes nutrition a priority and is more than proud of its progressive approach to lunch programs.
There are no sodas or vending machines at the school.
The school offers ONLY healthy, organic and well-balanced meals that their students love to eat and are nutritious as well. The art and science of Gastronomy is an innovative school program, where children are taught how to cook, prepare and select foods and ingredients, and understand the science behind nutrition.
The school's menus often replicate those from top chefs.
Ingredients are organic and many are grown in the campus gardens and tended by the students. Menus often include grilled salmon, poulet sauté chasseur with rice and baby greens, chicken and vegetable jambalaya, grilled chicken and baked snapper with orzo. All meals include balanced portions of fruits and vegetables. This mouth-watering array of healthful food choices turns the lunch period into a special time for both students and faculty alike. The meals are so delicious and nutritional that many heads of state and famous chefs dine at the school while visiting Los Angeles.
What is just as important to the school is that children learn how to appreciate the importance of the time designated to 'the meal', not just by gobbling down the food and running off to class, but creating an enjoyable and communicative experience.
"In a busy day, there is nothing like slowing down at lunchtime and reconnecting over a delicious meal," explains Mrs. Clara-Lisa Kabbaz, Esq., President, Le Lycée Français de Los Angeles. "We try to emulate the atmosphere to how it is done in France. Mealtime is treated as a very special part of the day and children can learn how to respect and take pleasure in that time."
Though Le Lycée Français de Los Angeles is a private school, this paradigm of nutrition can be easily utilized by public school systems across the country. If menus are simply modified to replace unhealthy meals containing trans fats, high (non-complex) carbohydrates and refined sugars, with more fruits, vegetables and naturally grown foods, the difference in children's eating habits and weight would be significant.
Obesity and malnutrition beginning in childhood develop into strong potential health risk factors for child and adult degenerative diseases. There has become an epidemic of unfit and overweight children and families in this country (see statistics below). Along with unhealthy eating habits and foods, the lack of Physical Education has become a serious problem in the overall well being of our youth. Without the release of pent-up energy and anxiety, and a vehicle to healthfully reduce and maintain weight levels, it is difficult to fight this war against childhood obesity. Research by all leading studies and universities advocate the importance of exercise for both adults AND children alike. Physical education is mandatory at Le Lycée Français de Los Angeles, starting at pre-school throughout high school. The school encourages the children to use the playground area and gym during recess and lunch breaks. Often it is forgotten that the school milieu is the central force in a child's life, and by creating an environment of health and well being, it will have a profound effect now and in the future.
Important statistics:

France is the first European Union country to report a leveling off of childhood obesity rates, suggesting that healthier diet programs and a ban on vending machines in schools. The findings from the French National Institute for Health Monitoring are important because they show that government policies are a potential weapon in the fight against childhood obesity - and that they are paying off. (Child Obesity Rates Level Off In France - The New York Times, 15 May 2010)**
In the United States, the prevalence of overweight and obesity has increased dramatically in both adults and children in the past three decades. In 1970, about 15% of adults were obese and by 2004, the rate had climbed to 32%. The prevalence of overweight and obesity among nearly tripled among 12-19 year olds and more than quadrupled among 6-11 year olds in the last three decades. In California, among adolescents, 14% are obese and another 16% are overweight. (2005 California Health Interview Survey)***
One in three children are overweight or obese and pediatricians are seeing more cases of high blood pressure, high cholesterol, and Type 2 diabetes.
Americans spend 150 billion a year to treat obesity related conditions. Each year in California, overweight and obesity costs families, employees, the health care industry and the government 21 billion, more than any other state. (Finkelstein EA, Fiebelkorn IC, Wang G. State-level estimates of annual medical expenditures attributed to obesity. (Obesity Research. Jan 2004; 12(1):18-24).
Links to review:
*National Nutrition Month… http://www.eatright.org/NNM/content.aspx?id=7832&terms=National+Nutrition+Month
**Child Obesity Rates Level Off In France - The New York Times, 15 May 2010… http://www.nytimes.com/2008/05/15/world/europe/15iht-health.4.12927785.html
***Childhood Obesity Facts – US Govt.…http://www.cdc.gov/healthyyouth/obesity/
Michele Obama on school nutrition - ABC News… http://blogs.abcnews.com/politicalpunch/2010/03/first-lady-michelle-obama-lauds-work-of-school-nutritionists.html
About Le Lycée Français de Los Angeles
Founded in 1964, Le Lycée Français de Los Angeles offers a classic education in an international environment to students from preschool to 12th grade at five campuses in West Los Angeles. The school, which offers the choice of an English-language college prep program and another entirely taught in French, is accredited by the Western Association of Schools and Colleges and fully recognized by the French Ministry of Education. The school has some 800 pupils from more than 55 countries, 60 percent of whom are U.S. citizens. For more information, visit http://www.lyceela.org.
Contact:
Joanna Brody
Joanna(at)brody-pr(dot)com
(310) 582-0085
###