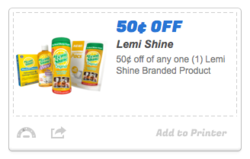 "We really like the concept of the consumer being in control of their savings and the ability to boost a coupon creates an added value for our customers," Dustin Bryson, Envirocon's Marketing Director.
Midland, Texas (PRWEB) June 26, 2013
Envirocon Technologies, INC. today announced its affiliation with Hopster, an online coupon site allowing customers to save on their favorite household brands. Envirocon is now offering coupons through the Hopster site for its popular Lemi Shine branded products, including Lemi Shine Original, Lemi Shine Rinse, Lemi Shine Machine Cleaner, and its new Lemi Shine Pacs. The company's current coupon offering is $0.50 off any one Lemi Shine branded product.
Customers are encouraged to register with Hopster, allowing them to earn extra points and boost the value of their favorite branded coupons. Registered users can also start Quests, a series of fun activities that encourage brand engagement and social media influence in order to unlock higher value coupons and boost points for their favorite brand's coupons. For example, points can be earned by watching Lemi Shine's alternative use video on YouTube (+50 points), following the brand on Twitter (+70 points), Facebook (+85 points), or by posting about Lemi Shine on Facebook (+150 points). Points earned can be used to boost Lemi Shine coupons, as well as other branded coupons listed on Hopster.
Hopster's Lemi Shine coupons can be printed directly at home and used at any store. Once used, the Hopster system will automatically unlock another coupon for the Lemi Shine brand so the savings can continue.
Since Hopster's launch, Lemi Shine had already gained more than 3,600 Brand Fans on the coupon site, encouraging fans to watch videos and interact with the brand on social media avenues. According to Dustin Bryson, Envirocon's Marketing Director, Hopster's unique business model was the main reason his company decided to become an early adopter of the site.
"We're excited about this new collaboration with Hopster, and we believe it not only helps us market our brand to a willing audience, but also makes couponing a lot more fun and financially beneficial for our customers," said Bryson. "We really like the concept of the consumer being in control of their savings and the ability to boost a coupon creates an added value for our customers."
For more information on Hopster or to register and start boosting Lemi Shine coupons, please visit http://www.Hopster.com. For more information about the Lemi Shine family of products, please visit http://www.LemiShine.com.
About Envirocon Technologies, INC.
Envirocon Technologies pioneered the hard water dishwasher additive. With products on store shelves since 1994, Lemi Shine eliminates hard water minerals, while boosting detergent efficacy in the dishwasher. Since the company's inception, Envirocon has been focused on creating innovative, sustainable household cleaning products. Envirocon Technologies, INC markets its products throughout the U.S. and Canada. If you're interested in a family of products that actually does what it claims to, grab a bottle or carton and enjoy the shine!
About Hopster
Hopster is digital media platform that uses coupons to drive individual shopper behaviors for brand partners. By closing the coupon redemption loop, Hopster helps CPG brands deliver targeted promotions to drive more profitable shopping behaviors. Hopster was created by a team of experienced entrepreneurs and was founded by Brian Wiegand, a serial entrepreneur who previously co-founded Alice.com, JellyFish (acquired by Microsoft), BizFilings (acquired by Wolters Kluwer) and NameProtect (acquired by Corporation Services Company).