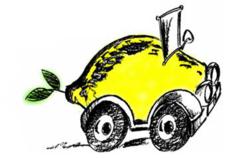 Ambler, PA (PRWEB) February 09, 2012
Lemon Law.com, a website dedicated to providing information on State Automotive Lemon Laws, federal warranty statutes and consumer rights, has extended its offerings to car-buying tips as well, by releasing the "Lemon Car Dodger" worksheet. This form is designed to help consumers, who are shopping for used cars, spot and avoid purchasing lemon cars.
The "Lemon Car Dodger" worksheet was compiled by the lemon law and automotive consumer advocacy firm Kimmel & Silverman, which operates the website. It features a long and extensive list of questions that consumers must ask themselves when they are shopping for a used car. Every question is followed by available space in which consumers can write their answers, making it extremely easy to use and to record critical information on. The Law Firm encourages consumers to print out the sheet and take it with them on their shopping excursion.
The worksheet shows us that, when it comes to shopping for a used car, there are many things to consider. It is also especially important to inquire about the car's accident history, since dealers are under no obligation to share that information unless it is inquired. Consumers are highly encouraged to answer every single question on the "Lemon Car Dodger" worksheet, because doing so will help them identify whether the used car they are looking at is a lemon or not.
"We received many calls every week on the 1 800 LEMON LAW hotline for used car buyers who trusted that their dealer was selling them a reliable, sturdy vehicle. Sadly, in many cases, they did not do any research before purchasing the car and their dream car has turned out to be a nightmare,' says Michael Sacks, Kimmel & Silverman, Director of Client Services. "We strongly suggest when buying a used vehicle that consumers purchase one with a manufacturers warranty. This way, if there is a problem down the road, the authorized manufactures dealer will address it, and if the problem cannot be fixed, the consumer may have a claim under the Federal Magnuson Moss Warranty Act."
For more than two decades, Kimmel & Silverman has provided free lemon law representation to affected drivers throughout the Northeast, successfully resolving over 65,000 lemon law and breach of warranty claims, and recovering more than $160 million for consumers. It is one of the nation's oldest and largest automotive lemon law firms, and it has been honored by the American Bar Association. Consumers who have questions about lemon laws are encouraged to reach out by calling the firm's toll-free hotline at 1-800-LEMON LAW (1-800-536-6652), or by visiting their website at http://www.lemonlaw.com.
###