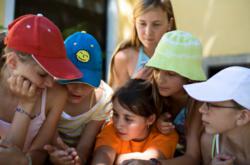 Los Angeles, CA (PRWEB) August 18, 2012
Lemonade Freedom Day offers educators and families a specific time to provide kids a financial literacy education in an engaging way. To celebrate the occasion, the National Financial Educators Council is giving away a project based learning activity that will help kids start their own lemonade stand and pick up important business and personal finance skills in the process.
The NFEC has developed financial literacy lesson plans that will help families and others start a lemonade stand. This activity is being given away complimentary to celebrate Lemonade Freedom Day as a part of the NFEC's Financial EduNation Campaign. To receive this activity visit the Lemonade Freedom Day Activity page.
The Financial EduNation Campaign was developed by the NFEC to encourage people to gain the personal finance skills that can help them secure their future and make a positive difference in the world. Providing money management for students and kids through the Lemonade Stand activity can be a positive first step down the path to financial responsibility.
Robert Fernandes of LemonadeFreedom.com states, "Lemonade Freedom Day is about much more than just lemonade stands. It is about freedom and individual responsibility. When children set up lemonade stands, they are learning valuable lessons. It teaches them about finances, money, and responsibility. They learn how to set up and operate a small business. Throughout the process they learn how to be productive members of society. They learn about providing a service to the public."
The Lemonade Stand activity helps kids learn essential business basics like: marketing, branding, cost of goods, profit, break-even points, risk, reward, budgeting, setting goals, accounting and the importance of location. All of these are taught through a simple lemonade stand.
The NFEC suggest having an adult on site ensure safety while giving them ownership and freedom to run their business. Adults should step away from their role as 'parent' or 'educator' and act as business mentors. Allow the children to make mistakes and give them positive guidance along the way.
According to Fernandes, "Children, by nature, want to be productive, creative members of society. This is what leads to future entrepreneurs. As a society we need to encourage this, not destroy it."
The National Financial Educators Councils' Financial EduNation campaign provides free personal finance training and material. Through collaborative efforts across the country, the NFEC is helping to improve the financial capability of our nation's youth. The complimentary financial literacy lesson plans are made available according to the NFEC's social enterprise business model, which provides free personal finance products or training for every service purchased.