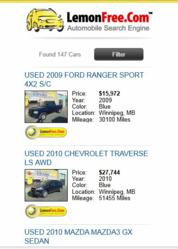 A mobile car buying site offers a whole new way to comparison shop
Winnepeg, Manitoba (PRWEB) September 29, 2011
LemonFree.com launches its mobile site today, giving users another simple, fresh approach to car buying on the go.
"We want to give our users the best car-buying experience possible," says Lance Schafer, President of LemonFree.com. "With more and more people accessing the web through their smartphones, it was time for LemonFree to go mobile."
The new site is compatible with all mobile devices and platforms and provides all the features of the full site. Users can search for a vehicle, view information for any of the 2.3 million autos on the site and call or email a dealer.
"A mobile site allows users to verify the vehicle information they saw online when they're in the dealer's lot. It's also a whole new way to comparison shop," says Schafer.
LemonFree is also making a few changes to its website with a restyle in keeping with their fresh and simple approach. The restyle includes a new colour scheme, a redesigned search tool and a new layout, all intended to make the site more user-friendly while still delivering the high-quality vehicle searches users have come to expect.
"We're excited to hear what users think of the new mobile site and the site restyle," says Schafer. "As always, our number one goal is to change the story of buying a car by making it as simple and transparent as possible."
LemonFree.com takes a fresh and simple approach to achieve its vision of being the most trusted auto marketplace online. More than 1.5 million auto buyers choose LemonFree to help them shop for a vehicle every month. Over 26,000 dealers list 40,000 autos daily on Lemonfree.com, making it one of the fastest growing auto marketplaces on the web.
# # #