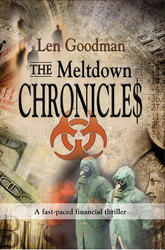 house of cards banking system
Lanham, MD (PRWEB) October 18, 2009
Len Goodman, former analyst and fraud examiner, is pleased to announce that his new book, 'The Meltdown Chronicles,' is now available from http://www.Amazon.com.
"This story is fast-moving, incredibly exciting and thought provoking. After reading this book, I listen to the world news with a new awareness."
David Punchard, Hollywood, Florida.
"Mr. Goodman's sarcastic sense of humor and clever use of words add to the overall enjoyment."
Paul Hertzberg, San Diego, California
Today's confusing economic events could be just the beginning of a total paradigm shift for modern civilization. Will it be sinister or an important step leading to a better future for the entire world?
Could it be that the Shadow Bankers really have mankind's interests in mind or is it just business as usual?

The book is fiction but borders almost too closely to what is actually happening today.
The Federal Reserve, the Bank of International Settlements and the Council on Foreign Relations are all very real and "hidden in plain sight!. Find out for yourself what the truth really is.
FBI agent Jeff Miller leads the reader on a search for the truth and its astounding implications for the future of the human race. During the journey, the reader learns the astounding facts about our "house of cards banking system" and of the world's cabal of International banking institutions. Capitalism has run amuck but is it according to plan? Is the world being hoodwinked into making the changes necessary for survival of the human race or is it just the usual suspects of greed and power? "
About the Author
For many years, Len Goodman was a highly paid Analyst and Fraud Examiner doing over 600 on-site investigations of U.S. based companies. In addition, Mr. Goodman, holder of an MBA, was a registered securities dealer and pension fund manager. Now, he is retired and a freelance financial writer.
The book can be purchased through, Amazon, Barnes & Noble, and special ordered from any bookstore.
652 pages
Selling Price: $ 22.95 paperback, $9.99 for Kindle eBook; Paperback ISBN 978-0-615-31209-5
For more information contact http://www.neweconomicparadigm.com
###