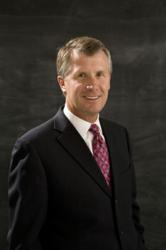 Butterfield's broad experience will be key in helping, not only our success, but small businesses across the country receive more capital
Salt Lake City (PRWEB) January 31, 2012
Lendio, a free online service helping business owners secure business financing, announced today the addition of Greg Butterfield of SageCreek Partners to its board of directors.
"This move solidifies an already strong board that is helping business owners across America receive the business financing they need," said Brock Blake, Lendio co-founder and CEO. "Butterfield's broad experience will be key in helping, not only our success, but small businesses across the country receive more capital."
Butterfield is the founder and managing partner of SageCreek Partners, where he helps companies with their go-to market, recruiting, finance and business development initiatives. Before SageCreek, he guided Altiris to eight consecutive years of profitability, overseeing growth in revenue from $3 million to more than $300 million. He had similar results at Vinca Corporation, Legato, Novell and WordPerfect. Butterfield is the winner of the 2002 Ernst and Young Entrepreneur of the Year award.
In the last year, business owners have requested more than $3 billion in funds through Lendio's online platform. And loan approval rates are about 50-70 percent higher than the national average.
"Lendio is doing some exciting things to help small businesses secure financing even in a slow economy," Butterfield said. "I'm excited to do my part to help Lendio, and look forward to helping them build upon the success they have already had."
Butterfield joins an experienced list of entrepreneurs, shareholders, advisory board members, and investors that have backed Lendio's vision to help American small businesses succeed. Some of those include:
VC Investors:

Highway 12 Ventures (Mark Solon)
Tribeca Venture Partners (Brian Hirsch)
Angel Investors:
*Josh James (founder of Omniture – sold to Adobe for $1.8 billion)
*Alan Hall (founder of MarketStar – sold to Omnicom, Partner at Mercato Partners)
*Paul Allen (founder of FamilyLink.com and MyFamily.com)
*Mark Madsen (former NBA professional)
Other key shareholders:
*David Bradford (chairman of Fusion IO and former general counsel of Novell)
Advisory Board Members:
*Mark Goines (former Senior vice president and general manager of the consumer division of Intuit and investor in Mint.com and Credit Sesame)
*Anton Commissaris (former senior vice president of revenue and business development of Mint.com)
About Greg Butterfield
Greg Butterfield is Founder and Managing Partner of SageCreek Partners LLC. Before founding SageCreek, Butterfield was the Group President, for Symantec's ABU, Server and Storage business units ($4 B business P&L). Butterfield joined Symantec through the company's acquisition of Altiris in April 2007. At Altiris, he most recently served as chairman of the board, president and CEO. Butterfield has more than 23 years of executive-level experience in the software industry. After joining Altiris in February 2000, he guided the company to eight consecutive years of revenue growth and profitability.
Butterfield was the driving force behind eleven acquisitions and he successfully completed an IPO in 2002 in the face of a notable economic downturn. Butterfield received a bachelors of science in business administration, finance from Brigham Young University.
About Lendio
Lendio makes small business loans simple by matching qualified small business owners with active banks, credit unions, and other lending sources. Through a proprietary matching technology, Lendio also instantly helps business owners shop, compare and contrast thousands of business loans in one spot. Lendio is a free service for business owners and is venture-backed by Highway 12 Ventures and Tribeca Venture Partners. For more information, contact Lendio at press(at)lendio(dot)com.
###