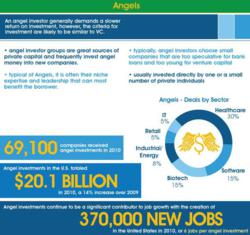 In many cases, those three sources of financing are determining the success or failure of small businesses nationwide.
Salt Lake City, Utah (PRWEB) October 12, 2011
Lendio, an online service helping people find viable business financing, released a graphic that provides a visual look at the state of funding for small business.
To view the graphic, go here: http://www.lendio.com/blog/visual-funding-infographic/
"Small businesses have long been the engine keeping the American economy alive," said Brock Blake, Lendio CEO. "For small businesses, however, success often comes down to securing the right source of capital."
In this study, Lendio took a deep dive into each source of capital and have uncovered where the funds are flowing, and identified common considerations, compromises and benefits of each. Much of the graphic compares angel investment, venture capital investment and business loans.
In 2010, angel investments totaled $20.1 billion, venture capital investments totaled $23 billion, and small business loans from banks exceeded $652 billion. In 2011, loans guaranteed by the Small Business Administration hit record highs of just under $20 billion.
"In many cases, those three sources of financing are determining the success or failure of small businesses nationwide," Blake said. "Those numbers are so different because business loans fit the need for most of Main Street America."
The graphic shows that small businesses employ just over half of all private sector employees, pay 44 percent of total U.S. private payroll and have generated 64 percent of net new jobs over the past 15 years.
"With the significant impact small business has on our economy, it's important for business owners to understand the difference between various sources of funding so they can make the right decision that will grow their business," Blake said.
The media and/or blogs can use the graphic with the embed code on http://www.lendio.com/loan-types/business-financing/
About Lendio
Lendio makes business loans simple by matching qualified small business owners with active banks, credit unions, and other lending sources. Through a proprietary matching technology, Lendio assists a business owner to identify the business loan type and specific lenders that offer the highest probability for that business owner to prepare for and secure a business loan approval. For more information, contact Lendio at press(at)lendio(dot)com.
###