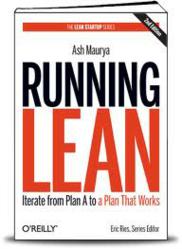 We spend too much time building and not enough time testing.
Salt Lake City, UT (PRWEB) April 02, 2012
Ash Maurya, author of "Running Lean: Iterate from Plan A to a Plan That Works" joins Lendio's Entprepreneur Addiction Podcast to discuss how companies can stop wasting money by building the wrong business.
To listen to the interview, click here.
"Ash's new book is the first in the new Lean Series started by Eric Ries, author of the popular 'The Lean Startup,'" said Dan Bischoff, co-host of Entrepreneur Addiction. "Eric's book was about the Lean philosophy while Ash's book is more of a how-to guide to make your business run lean. These principles are so important for business owners to build successful companies today."
In the interview, Maurya discusses the principles of his book and gives listeners practical advice to help their businesses become lean and raise their odds for success.
"When entrepreneurs get hit by an idea, they almost always rush toward building it," Ash said in the interview with Lendio. "It is cheaper than ever to build products, but unfortunately, we spend too much time building and not enough time testing... then we're hit by this awful surprise that we've built something that not many people wanted."
Some highlights of the show include:

Why we fail at building what customers really want
Determine what customers would want to pay for
From idea to testing to accelerating a plan
Customer validation
Faith vs. Testing
Most business plans are wrong
Why Plan A should really be Plan X or Y
Identify customers, their problems, and how you'll find those customers
How Ash used these same principles to write his book
How to test your own product or service
The ideal time to pursue business financing, investors and business loans.
The first thing to do once you get funding
To listen to the interview, go to http://www.lendio.com/category/blog/podcast/
About Lendio
Lendio makes small business loans simple by matching qualified small business owners with active banks, credit unions, and other lending sources. Through a proprietary matching technology, Lendio also instantly helps business owners shop, compare and contrast thousands of business loans in one spot. Lendio is a free service for business owners and is venture-backed by Highway 12 Ventures and Tribeca Venture Partners. For more information, contact Lendio at press(at)lendio(dot)com.
###