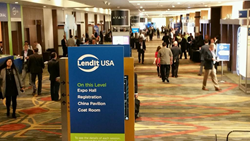 . "Access to financing is at the root of the industry's success. The problem was always about access to capital. A streamlined process is the cherry on top." -Jules Dalsey, Quote 2 Fund
San Francisco, California (PRWEB) April 12, 2016
The largest gathering of the online lending community took place early this week, attracting over 4,000+ decision-makers from over 20 countries. Notable attendees included Prosper, Lending Club, SoFi, Kabbage, Quote 2 Fund, and Lending Tree.
Up from 700 participants almost five years ago, the event is quickly becoming the place where lenders, innovators, and investors in the online lending industry converge.
"Small business owners were hurt most by the recession. Their dependence on credit and the slow economic recovery continued to prevent many of those business owners from attaining traditional bank financing. But, now as you can see here, they have many options," says Jules Dalsey, founder of the marketplace lending platform Quote 2 Fund.
Online lenders such as OnDeck have created innovative ways to streamline the application process. What used to take weeks or months now takes hours or days. Dalsey argues that it is not solely a quick, streamlined application process that people are looking for. "Access to financing is at the root of the industry's success. The problem was always about access to capital. A streamlined process is the cherry on top."
As for the role of traditional banks, Dalsey says that they remain a key player. "Banks are beginning to rely on online marketplaces to cut the high cost of customer acquisition...They're also adopting some of the innovative underwriting techniques created by some of their online competitors."
About Quote 2 Fund
Quote 2 Fund is a leading online aggregator and platform for small business financing. Fusing technology and human touch to help lower search costs, Quote 2 Fund connects small business owners to a nation-wide network of banks and lenders with a single, free application. Finding the best financing option for your small business is easy with Quote 2 Fund's instant comparison, pre-approval app. From SBA loans to alternative financing programs, Quote 2 Fund empowers small businesses with more options to choose from—at better speed and customer service.