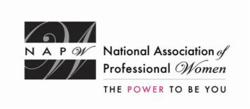 Garden City, NY (PRWEB) May 29, 2012
The National Association of Professional Women (NAPW) announces a new, year-long strategic partnership with Lenovo™ as the heralded personal technology company becomes the Official Technology Supplier for the organization. With the mission to continuously offer its almost 400,000 members the resources necessary to foster professional and personal success, NAPW is proud to align itself with such a rapidly expanding global company. NAPW identified Lenovo as a partner which truly recognizes the powerful and dynamic buying- and decision-making power that professional women hold, and given its ability to put effective technology and tools in the hands of such women, Lenovo is a tremendous asset to all involved. Lenovo will be exclusively endorsed via NAPW's extensive marketing, communication and promotional vehicles including the website, dedicated email blasts and social media channels, as well as promoted through the nearly 300 local NAPW chapters' events. Encompassing many important demographics of the U.S. economy, NAPW members represent over 200 diverse business industries across the U.S. It's a rare opportunity for a brand to access such a highly-coveted and targeted audience.
In addition to exclusive access to some of the most influential businesswomen in the United States, Lenovo had direct contact with over 1,000 members at the annual NAPW National Networking Conference which took place on May 18, 2012 in New York City. As a supporting sponsor, Lenovo participated in the exhibitor showcase, supplied laptops for conference check-in, and gave away two (2) laptops to NAPW members through a Pink Ticket drawing. The conference brought together NAPW members from across the country to network, share personal experiences and hear from NAPW's high-profile host, Star Jones, as well as a stellar line up of top female executives from SPANX, CNN, FACEBOOK, SAKS FIFTH AVENUE, TRACYLOCKE, CANYON RANCH and more.
Lenovo™ is a Fortune 500 company and the world's second-largest PC vendor. Engineering laptops, tablets, desktop computers, accessories and more, Lenovo has a long-term goal of becoming the leading personal technology company in the world. Today Lenovo serves customers in over 160 countries. Lenovo is proud to provide innovative technology to some of the world's leading professional women.
About National Association of Professional Women (NAPW)
National Association of Professional Women (NAPW) is the most rapidly growing and recognized association for professional women in the United States. It is an exclusive network with nearly 400,000 accomplished, professional women who come together to interact, exchange ideas, educate and empower. Through the wide reaching network of almost 300 local NAPW chapters across the country, like-minded members meet in-person on a regular basis to share their professional endeavors, experiences, develop relationships, gain exposure and establish and advance their careers. In addition NAPW members have access to online bulletin boards, message centers, mentorship programs and other resources and services, which help them achieve growth and development.
###
Media Contact:
Kate Boothby / Maggie Porges / Emily Forrest
LaForce + Stevens
212-242-9353
kboothboy(at)lsagency(dot)com / mporges(at)lsagency(dot)com / eforrest(at)lsagency(dot)com