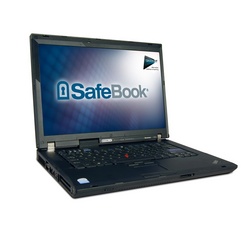 It is exciting to see companies like Devon IT aggressively building solutions for enterprise customers
KING OF PRUSSIA, Pa. (PRWEB) May 20, 2008
The SafeBook LVO:
Is a mobile thin client laptop built on the Lenovo R61 ThinkPad platform
Will carry the Lenovo part number 8930-A93
Is identical to the Lenovo R61 ThinkPad but has no hard drive
Starts at $839USD
Runs seamlessly on the entire Lenovo R61 ThinkPad platform, and is compatible with everything from docking stations to accessories.
Features an Intel Celeron 550 2.0GHZ processor, runs Windows XP Embedded, and supports all major server environments, including Microsoft Windows Terminal Servers 2000/2003/2008, Citrix XenAPP, XenDesktop and XenServer, VMware Virtual Desktop Infrastructure (VDI), Unix/Linux servers, and Legacy Servers
Executive Quotes
"The Lenovo ThinkPad has long been the preferred notebook for corporate and other mobile users due to its durability and advanced technology, and by blending with it our thin technologies we expect the SafeBook LVO to be the preferred thin client laptop for users across all verticals. This paramount , forward-thinking decision by Lenovo will allow companies and organizations to make a smooth transition from PCs and laptops to server-centric computing environments with thin clients. We have received tremendous feedback from our customers, and expect to be very successful with Lenovo and the SafeBook LVO." - Joe Makoid, President, Devon IT, Inc.
"It is exciting to see companies like Devon IT aggressively building solutions for enterprise customers," says Fran O'Sullivan, senior vice president, Lenovo Product Group. "We look forward to working with Devon IT to offer customers new ThinkPad-based solutions." - Fran O'Sullivan, senior vice president, Lenovo Product Group
About Devon IT
Devon IT is an information technology company that focuses on offering thin client terminals and alternative desktop solutions that provide enterprise customers with greater security, enhanced manageability, improved reliability, and lower costs. Devon IT is a founding member of Blade.org and develops products that support IBM's Hosted Client Infrastructure and Blade Computing ecosystem. More information is available at http://www.devonit.com.
Keyword Tags:
lenovo, lenovo laptop, lenovo thinkpad, mobile notebook, safebook, thin client, thin client computers networking, thin client computing, thin client network, thin client software, thinkpad, thinkpad ibm lenovo
MULTIMEDIA GALLERY http://www.businesswire.com/cgi-bin/mmg.cgi?eid=5690368