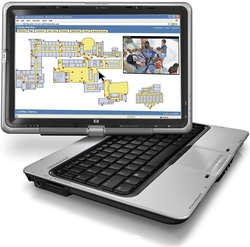 Any district authorized person in Deer Park ISD will be able to see any campus camera from any computer at anytime from anywhere
HOUSTON (PRWEB) February 1, 2008
The GTC Best Solutions Award is presented to companies that have developed a solution for a specific customer to help solve a particular problem. The solution is not an "off-the-shelf" application and was created specifically for a customer or in partnership with a customer in either the public or private sector. In addition, the solution must have resulted in significant benefits of saving "time, money or headaches."
"LenSec is honored to be the recipient of our fourth GTC Best Solutions Award," states Keith Drummond, LenSec Chief Executive Officer. "We are delighted to receive this honor for our innovative IP video surveillance solution on behalf of Deer Park Independent School District. In addition, we take pride in the fact that our products and services continue to receive recognition for delivering exceptional results to our valued customers."
Deer Park Independent School District, located 20 miles southeast of Houston, serves over 12,200 students on 14 campuses. Deer Park currently uses LenSec's real time "Roll Over" technology at its secondary campus facilities. According to Don Dean, Deer Park ISD's Deputy Superintendent for Administration, "The 'Roll Over' viewing technology greatly reduces the time it takes to tour the campus visually. In addition, the LenSec 'Box Search' feature shortens archive search time by placing a virtual box around the area of concern and only searching that area. For example, if a laptop was stolen in the cafeteria during lunch, an administrator would draw a box around the area where the laptop was last seen, click the search button, and then find the last person who was in the area, all in a matter of seconds."
Deer Park High School monitors 225 cameras covering areas of concern, muster areas, and exterior entrances. Deer Park High School retains the largest school-based IP video surveillance system in Texas. The video surveillance system is comprised of interior and exterior fixed cameras as well as numerous day/night and pan-tilt-zoom cameras for nighttime viewing of the campuses and football stadium. Additionally, the middle schools are equipped with 30+ cameras per site and elementary schools are slated for later in 2008.
"Any district authorized person in Deer Park ISD will be able to see any campus camera from any computer at anytime from anywhere," states Alan Morris, LenSec Regional Sales Director. "Outstanding results have been enjoyed by Deer Park since installing the LenSec IP-based surveillance system. Not only do students and staff feel safer with the 'omnipotent' presence installed in and around the campus, parents are more confident in the district's ability to protect their children while at school. In addition, incident tallies remain relatively low, since students are fully aware of the strategically placed cameras and are less likely to commit an offense while on or near campus."
About LenSec
LenSec is a premier provider of IP-based video surveillance solutions to local government and educational institutions across the United States. With over 2,000 installations in 30 states nationwide, LenSec offers complete turnkey surveillance solutions to manage personnel and facilities at any location by integrating cameras, access control and other security and operational applications. For more information on LenSec's IP-based video surveillance solutions, visit http://www.lensec.com.