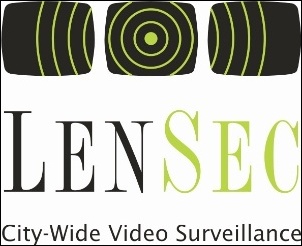 LenSec's value proposition to a mayor is simple; during an emergency situation, we help them make effective decisions, quicker
HOUSTON (PRWEB) April 27, 2007
"Current events continue to make public safety, including city-wide video surveillance, a top priority for local government officials," said Keith Drummond, LenSec Chief Executive Officer. "For that reason, LenSec's sponsorship of the Mayor's Summit is a natural fit."
The Mayor's Summit at the Killer App Conference will provide government leaders with an opportunity to learn about cutting edge technology that can help them retain and gain jobs, provide excellent service to citizens, and make their city safer. During the conference government leaders will discuss best practices from across the country. City-wide video surveillance, and the use of security camera solutions will be discussed in detail during the Mayor's Summit due to their ability to increase a city's safety, security, and operational efficiency.
"LenSec is the perfect company with the ideal public safety application for sponsoring the Mayor's Summit. It is very appropriate that they are playing a leading role," said Scott DeGarmo, Conference Chairman and CEO of Killer App. "LenSec's city-wide solution and network collaboration tool is just the sort of killer app that this conference was created to highlight."
LenSec provides local government customers full turn-key, city-wide video surveillance solutions which center around their integrated suite of software providing for password authorized, browser-based access from any computer. LenSec's ability to provide the total solution, along with wireless mesh connectivity components, further extends their capabilities to support public safety initiatives at the city and county-wide level.
"LenSec's value proposition to a mayor is simple; during an emergency situation, we help them make effective decisions, quicker," said Scott Frigaard, LenSec General Manager. "We enable municipal government, law enforcement, and emergency responders to simultaneously collaborate in response to incidents. From any location, decision makers can appropriately allocate resources to address the situation."
About LenSec
LenSec, founded in 1998, and based in Houston, Texas, is a premier provider of City-Wide Video Surveillance solutions to local government clients that allow more effective remote management of facilities and enable instant, real-time collaboration with third-party agencies during an incident. Its offerings include specifically designed video management solutions including network security camera hardware with complete installation and on-site monitoring, providing customers with a more affordable, reliable and secure multi-facility/multi-system solution which offers instant access to all security system data, regardless of the source. With over 2,000 installations in 30 states across the country, LenSec has the experience and expertise to deliver the most effective solution to manage personnel and facilities at any location by integrating video surveillance, access control, RFID and other security and operational applications. For more information on LenSec's city-wide video surveillance solutions, visit http://www.lensec.com.
About Killer App
Killer App Conference & Expo is co-produced by Killer App Magazine, Broadband Properties Magazine, and the City of Fort Wayne, Indiana. Conference co-hosts include the National League of Cities, National Association of Counties, Indiana Association of Communities and Towns, Public Technology Institute, Fiber to the Home Council and One Economy Corporation. For more information, visit http://www.killerappexpo.com.
Optimized by Newsforce