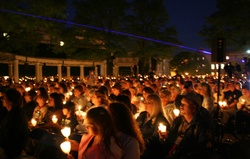 For the past ten years, LenSec has worked diligently with our nation's local government leaders and law enforcement agencies to develop innovative video surveillance solutions that increase public safety and promote more safe and secure law enforcement operations
HOUSTON (PRWEB) May 16, 2008
First signed as a Presidential Proclamation by President John F. Kennedy in 1962, National Police Week is a collaborative effort of many organizations dedicated to honoring the service and sacrifice of America's law enforcement community. NLEOMF, which sponsors the annual Candlelight Vigil at the National Law Enforcement Officers Memorial, is one of three principal organizers of National Police Week. The Memorial Fund's mission is to generate increased public support for the law enforcement profession by permanently recording and commemorating the service and sacrifice of law enforcement officers, to provide information that will help promote law enforcement safety, and to construct the world's most comprehensive law enforcement museum.
LenSec is one of many other leading corporations nationwide that recognizes by investing in the National Law Enforcement Officers Memorial Fund Corporate Program, they learn innovative ways to invest in the law enforcement community. Since many customers of LenSec's IP video surveillance systems are police officers, LenSec is naturally concerned about the safety and protection of the men and women who put their lives on the line every day to protect our citizens and communities.
"For the past ten years, LenSec has worked diligently with our nation's local government leaders and law enforcement agencies to develop innovative video surveillance solutions that increase public safety and promote more safe and secure law enforcement operations," states Keith Drummond, LenSec Chief Executive Officer. "LenSec is pleased to collaborate with the NLEOMF by supporting their efforts to preserve the memory of our fallen officers who have made the ultimate sacrifice during National Police Week."
About LenSec
LenSec is a premier provider of IP-based video surveillance solutions to local government and educational institutions across the United States. With over 3,000 installations in 30 states nationwide, LenSec offers complete turnkey surveillance solutions to manage personnel and facilities at any location by integrating cameras, access control and other security and operational applications. For more information on LenSec's IP-based video surveillance solutions, visit http://www.lensec.com.
MULTIMEDIA GALLERY http://www.businesswire.com/cgi-bin/mmg.cgi?eid=5687332