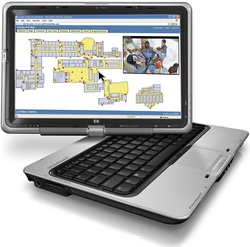 With LenSec's unique map interface feature, any of Ysleta's authorized users will be able to see any camera from any computer at any time
HOUSTON (PRWEB) February 15, 2008
Ysleta ISD is a recognized leader in educational innovation. In 1998, Ysleta ISD became the first urban school district in Texas to be named a Recognized District for student performance on the Texas Assessment of Academic Skills (TAAS) test. As the second largest school district in El Paso and the area's third largest employer, Ysleta ISD retains a staff of 7,155 employees and serves nearly 45,000 students on 58 campuses.
According to Jim Booher, Executive Director of Facilities and Construction, "At Ysleta ISD, we hold the safety and security of our students, staff, and faculty as one of our highest concerns. In order to provide enhanced protection for our people and assets, we decided to employ a comprehensive video surveillance system that is easy to use and allows us to monitor all campuses remotely. After an extensive search for suitable solutions providers and placing RFP's on the bid circuit, we determined that LenSec was the only provider out there that could match our rigorous criteria. What also appealed to us about LenSec was that their services are completely turnkey, allowing us the benefit of dealing with a single point of contact for all surveillance system-related business."
Currently, the new LenSec system is being installed on all of Ysleta's high school facilities. The project is 60% complete and the schools, which have cameras installed, are fully operational. Plans to cover the remainder of the district with cameras at all secondary and primary campuses are slated for the near future. Funds for the security upgrades are derived from a $250 million bond referendum that was passed by voters in January 2004. The bond program's purpose is to upgrade Ysleta's facilities to match the excellence of YISD students and staff, en route to becoming an Exemplary District. In addition, one of the bond program's goals is to insure that their facilities are safe and secure environments.
"With LenSec's unique map interface feature, any of Ysleta's authorized users will be able to see any camera from any computer at any time," states Keith Drummond, LenSec Chief Executive Officer. "In addition, our system will enable Ysleta administrators to collaborate with third party emergency responders in the event of an incident, a feature that is very important to them. We are excited to play a key role in helping Ysleta provide greater security for their campus communities and are confident that, like all our other school district customers, they will be pleased with LenSec's performance."
About LenSec
LenSec is a premier provider of IP-based video surveillance solutions to local government and educational institutions across the United States. With over 3,000 installations in 30 states nationwide, LenSec offers complete turnkey surveillance solutions to manage personnel and facilities at any location by integrating cameras, access control and other security and operational applications. For more information on LenSec's IP-based video surveillance solutions, visit http://www.lensec.com.