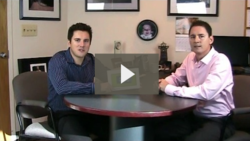 Wayne, NJ (PRWEB) October 23, 2012
The Ballantine Corporation, a New Jersey-based full-service direct mail company, has recently published a video describing the lenticular printing process and how it was applied to create a lenticular luggage tag fundraising package for Saint Peter's University.
Lenticular printing results in an image that changes as the printed item is tilted. This process includes two or more images that are digitally cut into small slices and recombined into a composite image, which is then printed using traditional offset printing methods. The composite image is then attached to a lens that contains a series of ridges with specific spacing. The ridged lens allows for each of the images to be shown individually, depending on the tilt of the item.
For this particular campaign, the lenticular luggage tag was created using three separate images. The tag was mounted on a contrasting background sheet in a 6"x9" windowed envelope. Depending on the tilt, the luggage tag would display the university name, the fundraising campaign tag line, or the university's web site URL. The envelope also included a campaign letter, a plastic cord for attaching the luggage tag, a double sided response card, and a business response envelope.
Promotional items that employ lenticular printing, such as the luggage tags in this example, are eye catching, and can result in an improved return on investment due to their novelty. Ryan Cote, Director of Marketing for Ballantine notes, "The cost of a lenticular luggage tag, for example, is about double that of a traditionally printed luggage tag. The lenticular luggage tag, however, is far more impactful as a marketing tool because it's more likely to be used by the owner."
To watch the video and to learn more about Ballantine Corporation and its services, visit:
http://www.ballantine.com/video-about-lenticular-printing/
About The Ballantine Corporation:
The Ballantine Corporation is a family-owned and operated direct mail company that has been in business for more than 45 years. Their services include printing and mailing, copy and design, promotional items, personalized URLs and QR codes. Ballantine also provides SEO and social media services through their digital division, Ballantine Digital.