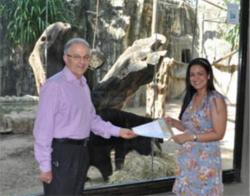 Barranquilla, Colombia (PRWEB) July 31, 2012
This decision is part of the corporate and social responsibility that Fedco has of supporting the important work that is being done at the Zoo in Barranquilla, the only one the Caribbean region can count on to protect nature.
"The beauty of nature and of this particular specie is truly unique," said Leo Eisenband "We should do everything we can to help preserve it so that our future generations can also appreciate it and count with its entire habitat."
From all the corners of this zoo, the knowledge and nurture of our fauna is being promoted to reach the young urban population oblivious to it. The experience they get from visiting all the species found in the zoo, allows them to be in touch with nature and to understand their responsibility to take care of these animals.
"It is a privilege to Fedco to be able to support the preservation of the Caribbean region," said Eisenband. "We encourage other companies to join us in sustaining these environmental projects that are essentials to preserve species in danger of extinction such as the case of the spectacle bear. It is extremely important because this is the only bear specie inhabiting in South America."
Fedco is a perfume and feminine beauty product line that for over 30 years has promoted progress in Colombia generating employment, being an economic stimulus and achieving social and environmental goals as part of its corporate and social responsibility. Fedco is run by Leo Eisenband, a business man who believes that private companies have the duty to provide welfare and good quality life for the people.