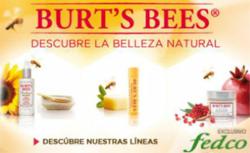 Bogota, Colombia (PRWEB) May 31, 2012
The FEDCO chain, known for its perfume and beauty products in Colombia for over 30 years, is proud to make Burt's Bees quality products available to its customers. Like FEDCO, Burt's Bees shares a passionate commitment to sustainability and social responsibility.
Burt's Bees is considered the leading natural beauty care company in the United States and has been providing green beauty products for over 25 years. The company's philosophy hinges on creating natural products to maximize beauty and wellbeing as well as its commitment to social responsibility and the environment.
The company identifies itself as an "Earth friendly, natural personal care company." This philosophy is in keeping with FEDCO's longstanding commitment to providing quality products in a socially responsible and environmentally conscious way.
Burt's Bees produces different product lines for the hair, face, lips, body, mother and baby, as well as men and outdoor care. All of their products are certified as natural and are elaborated with such ingredients as pomegranate extract, royal jelly and aloe vera. Parabens, petrochemicals or sulphates are not used and none of Burt's Bees products are animal tested.
According to FEDCO CEO, Leo Eisenband, Burt's Bees products are available in FEDCO stores and its ecommerce site http://www.fedco.com.co .