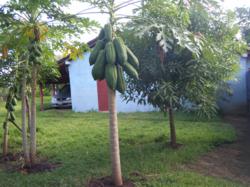 Leon Nicaragua Real Estate Farm for Sale
Houston, Texas (PRWEB) May 11, 2013
A new farm has been listed for sale on the website RealEstatesNicaragua.com in the León, Nicaragua, area. The farm is located close by to the cultural center of the country in León, and close by to great surfing in the area. It rests on 5.5 peaceful acres of relaxation and tranquility. The Nicaraguan property comes with multiple houses and a new multi-passenger vehicle. This is as close to a turn key piece of real estate in Nicaragua that anyone will find. The property has been well maintained and has been owned by an American ex-pat for over a decade.
The farm is located on the main highway 6 miles from the town square in León, going towards the Beach Playa Roca Hotel and Bar. From the farm it is 6 miles to the beach. The Nicaraguan finca is 5.5 acres, has a water well that can pump up to 3000 gallons of water a day. The well can be used to maintain the farming. The property has abundant vegetation, including mango, banana, avocado, and papaya trees. The farm is a gardener's delight, and has ample room to plant and grow more plants and vegetables. This is a great property for anyone looking to invest in Nicaragua.
The farm comes with 2 houses, and a well maintained vehicle. The main house is 3 bedrooms and 2 bathrooms and a living area. There is a 20 foot by 20 foot covered patio that connects to a kitchen area. The farm comes with a 2011 Suzuki van with very low mileage. The van comes with the purchase of the farm, which makes this farm an even better buy. Cars are very expensive to buy in Nicaragua and this is a new and well maintained multi-passenger vehicle. There is a separate living quarters for a hired hand that has a full bathroom. The farm also has sheep and a couple of pigs. This is a great opportunity to buy a turn-key investment property or retirement farm in Nicaragua that is close to a city and also the beach.
León is located to the Northwest of Managua, the capital of Nicaragua. The drive from Managua to León is a little over 2 hours time, and Managua is able to accessed via non stop flights from Miami, Houston, Atlanta, and Fort Lauderdale.
León has many attractions in the town and the surrounding areas, including Cerro Negro Volcano, the Basilica Catedral de la Asuncion, the Museo de Arte Fundacion Ortiz-Gurdian which contains many world famous paintings, Playa Las Penitas and Poneloya offering great surfing, and the Museum of Legends and Traditions. These are just the main highlights, and there is always something going on in the vibrant and exciting city of León.
To learn more about this property or to view more pictures of it, visit the listing found here http://nicaraguarealestates.com/leon-nicaragua-real-estate-for-sale/ and here http://realestatesnicaragua.com/leon-nicaragua-real-estate-for-sale/.