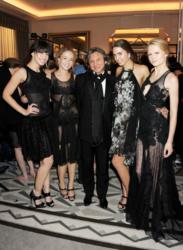 I wanted to show all my friends in London what I actually do
London, England (PRWEB) December 08, 2011
High fashion and High Society come together for the Leon Max Winter Dinner and Dance to benefit the breast cancer charity, Too Many Women.
As the Holiday season kicked off last week, the coveted invitation to receive was for the Leon Max Winter Dinner and Dance at the Claridge's ballroom. The bright young things of UK society gathered in aid of the charity Too Many Women, an organization working in the fight against breast cancer. A vast winter woodland wall of scented roses and gardenia, a display inspired by the designer's gardens at his country house, Easton Neston, provided the dreamy backdrop for the runway debut of the Spring 2012 Leon Max Collection.
Led by the newly appointed face of the label Katia Elizarova, the designer's London muses including Amber LeBon, Daisy Lowe, Clara Paget and Suki Waterhouse, commanded the catwalk in a stunning series of dresses fit for every occasion. Flowing dresses fashioned from vibrantly hued silk chiffon and cream colored chiffon hand painted with vivid bouquets of water color florals, transformed the models into an ethereal troupe of garden fairies. Providing a subversive but no less glamorous contrast to the delicate chiffons were a group of black lace and silk dresses whose strategic use of transparent and opaque left just enough to the imagination.
"I wanted to show all my friends in London what I actually do," said Leon Max. And they were all there to watch; fashion was represented with designers Nicholas Kirkwood, Louise Gray, Lara Bohinc and Marios Schwab, the social crowd with Amanda Sheppard leading in her boyfriend, rocker Bryan Ferry's sons Otis and Tara, Dan MacMillan came with girlfriend Sasha Volkova, Rose Cholmondeley, Jerry Hall, Georgia May Jagger and Pixie Geldof.
Come finale time, the question on everyone's lips was "When does the shop open?" referring to the arrival of the Max Studio's first European store expected to open it's doors late December 2011 in Westbourne Grove in Notting Hill.
ABOUT: Too Many Women
Too Many Women is an incredible campaign that was put together by Harry Becher and Catriona Blampied, who shared the recent experience of having both their mother's diagnosed with breast cancer within a few months of each other. The outpouring of support they received has inspired them to make a difference in memory of Harry's mother Judith and as a thanks for the wonderful treatment received by Catriona's mother, Marilyn.
They intend to raise £1million for Breakthrough Breast Cancer by creating an amazing network of men and women who will be putting on events large and small throughout the country until the campaign's end.
Visit Too Many Women at http://www.toomanywomen.co.uk for more information.
ABOUT : Max Studio
Max Studio is a global corporation producing leading-edge fashion design for modern women. Sold through Max Studio stores, boutiques, web and major department stores around the world, Max Studio offers top quality fabrics and innovative styles.
Founded in 1979 by designer Leon Max, Max Studio reflects the fashion standard of today's women. In order to provide clothing of unwavering calibre Max Studio pursues superior fabrics, yarns and leather goods globally. Max Studio focuses on head-turning shapes and silhouettes creating distinguished looks for every occasion. Signature boutiques, in-store instillations and website merchandise are replenished every two weeks, providing endless options for customers.
The well rounded philosophy of Max Studio permeates all aspects of our brand and business network. The Max Studio Network includes our ever-expanding web of retailers, manufacturers and distributors who share the Max Studio vision and a passionate dedication to quality.
Visit Max Studio at http://www.maxstudio.com for more information.
###