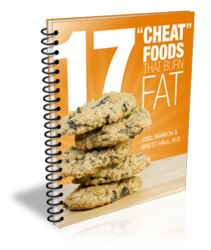 Atlanta, GA (PRWEB) December 05, 2012
BioTrust, a supplement company founded by Joel Marion and Josh Bezoni that offers quality supplements using natural ingredients, just launched a controversial report on how cheat foods can help with weight loss. This free report got the attention of the popular nutrition website, DietRecommendations.com where Mike Whitfield, a trainer in Atlanta, GA who has personally lost 105 pounds was intrigued by the report and was excited to share the free cheat foods report with his readers.
"The truth is that most people start a diet and end up being burned out because they never give themselves the freedom to splurge and enjoy themselves. Cheat foods are not as bad as people may think when it comes to fat loss. This report shows you how cheat foods do the opposite of what the mainstream media tells us. After I read it, I knew it was something I wanted to share with our loyal readers to help them. Not only that, but many people on our list are trainers and they can relate this fat loss nutrition report with their campers and clients. The report is controversial but is eye-opening, and more importantly, it details how cheat foods can help with leptin sensitivity and leptin levels, which is often ignored when trying to lose weight", said Whitfield.
Download the free report at http://www.cheatfoods.com