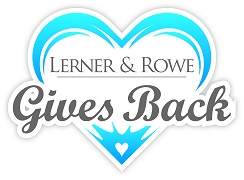 We are honored to take part in this event again. The holiday season is the perfect time to share with those that have little. The Johnjay and Rich Care for Kids Foundation really encompasses this belief. Bringing a little extra joy to a family brings up the whole community
PHOENIX (PRWEB) November 28, 2018
Christmas is truly a magical time, sometimes full of surprises. Lerner and Rowe Gives Back is excited to announce our sponsorship and support of the Johnjay and Rich Christmas Wish. The Johnjay and Rich Care for Kids Foundation has brought wonderful surprises to families in extreme need for over fifteen years.
The Johnjay and Rich Christmas Wish encourages others in the community to share the joy of the season by helping families that are struggling to make ends meet. Do you know a family who could benefit from a gift like this? Simply write a letter and mail, email or fax the Johnjay and Rich radio show to nominate a family in need. The nominated family must live in or near the Metropolitan areas that the radio show reaches. This wonderful opportunity is in action from now until 11:59 pm on December 20, 2018.
"We are honored to take part in this event again. The holiday season is the perfect time to share with those that have little. The Johnjay and Rich Care for Kids Foundation really encompasses this belief. Bringing a little extra joy to a family brings up the whole community," adds attorney Kevin Rowe.
For more information on this great event tune into the Johnjay and Rich morning show.
More about Lerner and Rowe
For more information about Lerner and Rowe's personal injury attorneys call (602) 977-1900 or visit l ernerandrowe.com. To learn more about the criminal defense and bankruptcy legal services offered by their partner law firm Lerner and Rowe Law Group, visit lernerandrowelawgroup.com. Looking for help filing for social security benefits? You can reach the law firm's other legal partners at Social Security Disability Advocates by calling (602) 952-3200 or online at socialsecuritydisabilityadvocatesusa.com.
To connect with Lerner and Rowe on social media, follow the law firm on Twitter or Facebook. Also, remember to visit lernerandrowegivesback.com to learn more about the community services, sponsorships, and events that the team at Lerner and Rowe support.