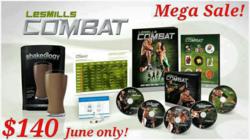 This is lowest price ever for Les Mills Combat. Don't miss out, order your Challenge Pack today!
Denver, CO (PRWEB) June 25, 2013
The Challenge Pack includes the Les Mills Combat program, choice of one Shakeology flavor and a free 30-day membership to the Team Beachbody Club. The Team Beachbody Club gives members 24/7 support to help them achieve their fitness goals.
Les Mills Combat is a fitness program that allows participants to punch, kick and sweat their way to a great body, all while having fun.
The workouts take moves from all the martial arts, such as Karate/Kung Fu, Capoeira, Jiu Jitsu, Muay Thai and Tae Kwon Do. These high energy, high intensity moves allow people to burn calories and get the body they want in just 60 days. The moves use fast twitch fibers in the body; these are the ones that have the highest capacity for change--allowing the body to change quickly.
Shakeology makes eating right easy. The shakes are delicious and will help to improve both digestion and regularity. No more craving the wrong foods.
Les Mills Combat is perfect for everyone, even those who already own Les Mills Pump, Insanity, P90X or TurboFire – it can be a first step or next step in any fitness routine. It's a great addition to these workouts, and can be mixed in to keep your workouts fresh, new and interesting. Plus, adding new workouts keeps the body guessing and prevents reaching a plateau.
This is lowest price ever for Les Mills Combat. Don't miss out, order your Challenge Pack today. Shipping is free too, and if you have ever considered learning how to become a Beachbody Coach, the New Coach Challenge Packs will include a Game Plan Tools Kit and a Business Essential Starters Program, at no added charge.
About the Beachbody Business & Team Unity
Team Beachbody® is the network marketing division of Beachbody, which is known for their top selling health and fitness products such as P90X®, Insanity®, TurboFire®, Shakeology®, etc. The Beachbody MLM is unique, in that the parent company runs television infomercials and massive marketing campaigns in order to enroll new members, customers, and Beachbody Coaches for their representatives to earn from.
Team Unity is a group of Independent Beachbody Coaches and Team Leaders, who have developed a step-by-step training system and interactive support group, in order to ensure their team members are very successful in the Beachbody business opportunity.
Contact:
Holly Blochowitz, Team Unity Leader & Co-Founder
Independent Star Diamond Beachbody Coach
holly(at)beachbodycoach(dot)com
Beachbody does not guarantee any level of success or income from the Team Beachbody Coach Opportunity. Each Coach's income depends on his or her own efforts, diligence, and skill. See our Statement of Independent Coach Earnings for the most recent information on our Coaches' actual incomes.