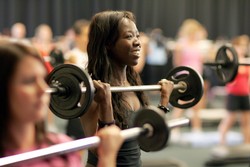 Their stories remind us what our core purpose is - to create healthier lives through fitness. It's extremely rewarding to be able to help people achieve that.
Los Angeles, CA (Vocus) September 18, 2009
LES MILLS® group fitness classes are creating life-changing fitness experiences every day around the world.
Les Mills International has announced a milestone: its eight group-exercise-to-music programs are now available in 13,000 health clubs in more than 75 countries. An estimated six million people attend the classes every week.
"Behind our fast global growth are the inspiring stories of class members all over the globe who regularly email to tell us we've helped them change their lives," says founder Phillip Mills. "Their stories remind us what our core purpose is - to create healthier lives through fitness. It's extremely rewarding to be able to help people achieve that."
Pharmacy Technician Cassi Bussick from Reno, Nevada, knows this better than most. She decided to change her life when she was diagnosed with a brain tumor. Cassi had also hit almost 230 pounds on the scales. After her treatment was completed, a friend encouraged Cassi to try a LES MILLS BODYPUMP® class with her.
"That was definitely the wake-up call I needed in life. I went on to lose a total of 100 pounds. BODYPUMP® saved my life on many levels. I can honestly say that I love to work out."
Behind Cassi's inspiring story are literally millions of individual people who've achieved better lives through the LES MILLS® group-exercise-to-music programs. Her commitment to a healthier lifestyle continues today - she's now a qualified LES MILLS® instructor, teaching BODYPUMP®, BODYVIVE® and BODYFLOW® classes, and continues to inspire others to create positive change in their lives.
Says Cassi: "LES MILLS® programs truly are life-changing fitness experiences! I am living, breathing proof of that."
See more inspiring stories like Cassi's.
BODYPUMP® is the largest group fitness program in the world - over 90% of all clubs that license LES MILLS® programs offer BODYPUMP®. The weights-based strength class works every muscle in the body to the latest music.
"People often refer to our classes as more party than workout," laughs Mills. "Which is great - we think exercise should be fun, it means you look forward to it and will commit to making it a part of your weekly routine."
Les Mills offers eight group fitness classes which are pre-choreographed to new music every three months to ensure class participants never get bored with the same old routine. The program's contribution to people's fitness is borne out by independent surveys showing that, compared with global data from fitness industry leader IHRSA, LES MILLS® class participants attend their clubs twice as often as other members.
Visit http://www.lesmills.com for more information. To find your nearest club offering LES MILLS® group fitness classes, try our class locator.
For more information and access to a wide selection of images:
Nikitin Sallee
Media Relations - Les Mills USA
+1 213 268 3754
Jodie Fitzgerald
PR and Communications Manager - Les Mills International
+64 9 366 9900
***Backgrounder on Les Mills International***
Club Business International magazine has credited Les Mills International as ''doing for exercise what McDonald's did for hamburgers.''
From Auckland to Atlanta, Los Angeles to London, Rio to Reykjavik, Sydney to Sao Paulo, the Les Mills programs are entrenched as the definitive group fitness solution across all main exercise categories.
The Les Mills story goes back to the 1920s, when members of the Mills family got involved in running health clubs in Auckland, New Zealand.
In the 1960s, the young Les Mills made his mark in track and field, representing New Zealand at four Olympic Games: 1960, 1964, 1968 and 1972. Les' wife, Colleen, and children Donna and Phillip have also competed as athletes at international level.
Les and Colleen opened the first Les Mills gym in 1968 in Auckland - a mere 4000 square feet, with modest equipment, and opening on alternate days for men and women.
In 1980, Les Mills' son Phillip ignited the group fitness revolution after returning to New Zealand after studying at the University of California in Los Angeles. Phillip pioneered freestyle group exercise in New Zealand, and developed a series of hugely popular exercise-to-music classes that later evolved into the eight programs now distributed globally by Les Mills International.
The classes and associated management systems had a spectacular effect on the chain of Les Mills health clubs in New Zealand, filling their group fitness studios with up to 300 people per class.
As the popularity of the classes grew, the decision was made to expand overseas. Today more than 13,000 clubs, 70,000 licensed instructors and six million participants every week have cemented Les Mills as the world leader in group fitness.
###