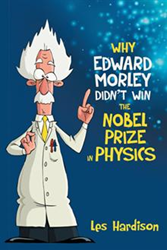 Barrington, Ill. (PRWEB) February 27, 2015
Albert Einstein's theory of special relativity discusses how light can appear to move at the same speed when measured by two observers moving at different speeds.
Interested in this theory, author Les Hardison researched Einstein's work as well as that of Einstein's predecessor Edward Morley. Morley and Albert Michelson attempted to detect relative motion of the ether, which was presumed to conduct light, before Einstein. Hardison believes Einstein's interpretation of the Michelson-Morley experiment is flawed, and he explains this belief in his new book, "Why Edward Morley Didn't Win the Nobel Prize in Physics" (published by Archway Publishing).
Hardison fictionalizes what characters might have done around the time of relativity's introduction, but believes the conclusions that should have been drawn are non-fiction.
"My main points are that there is a better alternative to Special Relativity, and that everyone, especially scientists, ought to consider ideas which are contrary to their beliefs," Hardison says.
An excerpt from "Why Edward Morley Didn't Win the Nobel Prize in Physics":
"Morley, more than Michelson, was convinced that their findings were correct but could not explain them either. Michelson was convinced that radiant energy was an oscillatory wave-like entity that moved through the ether at about 300,000 km/s and couldn't see how it could be invariant with the motion of the measuring apparatus."
"Why Edward Morley Didn't Win the Nobel Prize in Physics"
By Les Hardison
Hardcover | 6 x 9 in | 152 pages | ISBN 9781480812161
Softcover | 6 x 9 in | 152 pages | ISBN 9781480812178
E-Book | 152 pages | ISBN 9781480812185
Available at Amazon and Barnes & Noble
About the Author
Les Hardison is a retired engineer and business executive. He has a mechanical engineering degree from Illinois Institute of Technology. He founded ARI Technologies, Inc.
Simon & Schuster, a company with nearly ninety years of publishing experience, has teamed up with Author Solutions, LLC, the leading self-publishing company worldwide, to create Archway Publishing. With unique resources to support books of all kind, Archway Publishing offers a specialized approach to help every author reach his or her desired audience. For more information, visit http://www.archwaypublishing.com or call 888-242-5904.