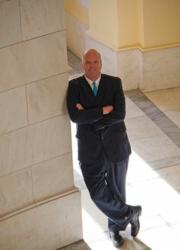 We still need to widen the lens when talking about cancer to include prevention.
Concord, NH (PRWEB) April 26, 2012
Bill Couzens, Founder of Less Cancer, spoke at a Committee Hearing, for the House of Representatives Executive Departments and Administration in Concord, New Hampshire this past Thursday, April 19.
Couzens, who under Less Cancer, founded National Cancer Prevention Day (February 4), has been working with individual states and spoke on behalf of SENATE BILL 310.
Senator Nancy Stiles, a sponsor of the legislation, stated in her written remarks, "I believe most of us have been touched by cancer within our family or in our circle of friends. Many of you know that I am also a proponent of prevention and this bill proposes education and actions that are proactive in reducing the risks for cancer."
In his remarks Couzens mentioned his sister, Anne, and mother, Joan, who both died of cancer, and spoke of family and friends who are also currently fighting cancer.
While Couzens stated, he wished for the "cure," he suggested that we still needed to widen the lens when talking about cancer to include prevention.
Couzens reported on childhood leukemia and brain cancers that have sharply increased in incidence.
Between 1975 and 2004, among children 14 years and younger, primary brain cancer increased by nearly 40 percent and leukemia by over 60 percent. (Children's Environmental Health Center-Mount Sinai)
Couzens' closed his remarks by stating, "Thank you New Hampshire for your work in recognizing a need for Cancer Prevention Day and for helping to bring education and awareness to this important issue for less cancer, less Incidences of cancer." Before Couzens stood up he answered several questions.
Bill Couzens, who originally hails from Detroit, Michigan, is a graduate of Wayne State University and the Founder and President of the nonprofit Next Generation Choices Foundation and the widely known Less Cancer Campaign.
The Campaign has worked to raise awareness for the reduction of cancer risks. Founded in 2004, Next Generation Choices Foundation partners with communities to create and dispense educational tools that focus on environmental health advocacy and lifestyle choices.
Couzens, under Less Cancer and its board of directors, was the founder of National Cancer Prevention Day, February 4th, which serves to remind people that when looking at cancer they need to look at prevention, and reducing risks for human health and the environment.
In February of this year a resolution had been entered in the House of Representatives for National Cancer Prevention Day recognizing that when we work to prevent cancer risks, it impacts human health, the environment, and the economy. The resolution was introduced by Congressman Steve Israel, Co-Chairman of the House Cancer Caucus and had 15 co-sponsors.
The public charity was formed in response to the escalating cases of cancer and the lack of education and knowledge about potential causes. Couzens has been recognized by Congress in addition to the Commonwealth of Virginia for his work in initiating and creating best practices to reduce pesticide drift in health effected communities such as schools. He has been published in a number of periodicals and has been a speaker on the topic of reducing harmful environmental exposures linked to cancer. Couzens regularly speaks on human health and environment issues relative to reducing risk.
Follow Less Cancer on:
http://www.facebook.com/LessCancer