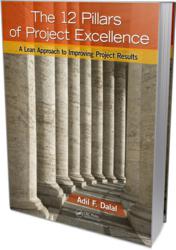 To true leaders, successes are strangers and even minor failures are true friends as they are continuously providing feedback that helps them become better leaders.
Austin, TX (PRWEB) November 29, 2012
The 'F' word – failure – is a scary one for most businesses and entrepreneurs, who see unsuccessful projects, products, or strategies as a financial drain on their companies. Perhaps even more damaging, however, is the psychological impact on the person or group responsible for the undesirable result. Failure's lasting impression leads to a popular view that lack of success is wasted effort. However, Pinnacle Process Solutions CEO Adil Dalal, a distinguished executive coach and a world-renowned expert on leadership, notes that the lessons to be from learned from failure are building blocks, which can help transform individuals, leaders and organizational cultures.
In an interview with Entrepreneur magazine, famed inventor James Dyson discussed how failure was an integral part of the innovation process. Before creating the dual cyclone vacuum that led to billions of dollars in sales for his company, Dyson went through over 5,000 failed models over the course of 15 years. "We have to embrace failure and almost get a kick out of it. Not in a perverse way, but in a problem-solving way. Life is a mountain of solvable problems and I enjoy that."
Leadership is often tested through failure. Regardless of political party affiliation, Abraham Lincoln is regarded by an overwhelming majority of most Americans as one of the country's greatest presidents. Yet, despite Lincoln's historical reputation for his progressive thinking on slavery and resolve in restoring the country's unity, Lincoln may never be the man we now know had he not persevered through failure. After having failed in business, Lincoln was defeated in seeking a nomination to the U.S. Congress, and was twice defeated in his bid for the U.S. Senate, all of this occurring in a 25 year span before being elected president in 1960.
In his book The 12 Pillars of Project Excellence, author Adil Dalal provides the readers a window into the vastly differing mind-sets of managers and leaders on assessing and addressing failure. A manager's mind-set is made so as to mostly fear the "F" word. When managers encounter a failure within any initiative, they react by focusing on the human level failures and quick fixes or "band aid" solutions, without getting to the true or root causes of the failures. A mind-set of a true leader is not to fear the "F" word. They focus on proactively addressing the system level failures and finding and eliminating the root causes of each failure. In fact, to true leaders, successes are strangers and even minor failures are true friends as they are continuously providing feedback that helps them become better leaders. It is obvious that leaders do not fail intentionally, but always aim for success in all endeavors. However, they are cognizant of the fact that when they take risks, even calculated ones, failure could be a likely outcome and they need to accept it and learn from it to make better decisions in the future.
Thus,Dalal stresses that failure is a form of feedback that leaders should heed in closing performance gaps in their skill-set and style. Rather than focusing solely on human failures which lead to an environment of fear, Dalal emphasizes that proactively focusing on uncovering root cause by using tools like FMEA, 5-Why analysis and others, not only identifies system level failure, but also fosters an open learning environment encouraging true innovation and creativity. Dalal says, "Thomas Edison tried 1799 different types of filaments before finally discovering the optimal filament for the light-bulb. If Edison had stopped after a few "failures", we would literally be in the dark today. However, Edison actually thought of his "failures" as "successes" - he believed he had discovered 1799 things which could be ruled out for a filament. Thus, his progressive thinking was a key to discovering "light-on-demand" – it is a gift that mankind needs to be thankful for even to this day".
Adil Dalal is the CEO and President of Pinnacle Process Solutions International ®. He is an author, entrepreneur, keynote speaker, innovator, radio show host, adjunct professor and an internationally recognized expert and thought leader in leadership, lean/flow technology and in project leadership. He is the author of The 12 Pillars of Project Excellence™, and co-author of The Lean Handbook: A Guide to the Bronze Certification Body of Knowledge. For more information please contact Pinnacle Process Solutions at info(at)pinnacleprocess(dot)com or at (512) 212-1166.