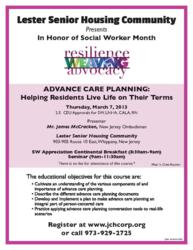 Advance Care Planning: Helping Residents Live Life on Their Own Terms
Whippany, NJ (PRWEB) February 27, 2013
The Lester Senior Housing Community in Whippany will host a free seminar on Thursday, March 7 titled, "Advance Care Planning: Helping Residents Live Life on Their Own Terms" from 8:30 to 11:30 a.m. The seminar is sponsored by the State of New Jersey Office of the Ombudsman and will be led by James McCracken, New Jersey Ombudsman, Division of Elder Advocacy. It is open to social workers, registered nurses, licensed nursing home administrators, and certified assisted living administrators, who will earn 2.5 continuing education credits for attending. The program is being held in honor of National Association of Social Worker Appreciation Month. A continental breakfast will be served.

McCracken will explain the role of the Office of the Ombudsman for the Institutionalized Elderly (OOIE) in ensuring the health, safety, well-being, and rights of people over the age of 60 who live in long-term care communities. He will also discuss the role of the 200-plus OOIE-sponsored volunteer advocates who are assigned to nursing homes throughout the state.
Another staff member will present the Office's initiative to promote the importance of advance care planning, and will discuss the Office's relationship with the dozen Regional Ethics Committees located throughout the state. These ethics committees are a resource for long-term care facility staff when they face complicated or difficult medical or end-of-life issues to resolve.
Amy Brown, an attorney who heads the Office's Money Follows the Person program, will discuss OOIE's involvement in promoting transitions from nursing homes to home and community-based services, a growing trend in the field of elder care.
The Lester Senior Housing Community comprises two residences on the Aidekman Jewish Federation Campus at 903-905 Route 10 East in Whippany, N.J.; it offers independent living and assisted living options, kosher dining, a wide range of enriching programs, and hotel-style amenities in comfortable rental apartments. It is one of four senior living communities owned and managed by the Jewish Community Housing Corporation of Metropolitan New Jersey in Essex and Morris counties.
Anyone interested in attending the seminar must register in advance, no later than Monday, March 4 by calling Lester Senior Housing at (973) 929-2700. For more information about the cultural, educational, and social programs for residents at Lester Senior Housing, visit http://www.jchcorp.org. To find out more about the State of New Jersey Office of the Ombudsman, Division of Elder Advocacy, go to http://www.nj.gov/ooie
###