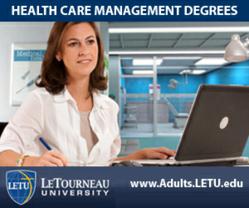 These programs are a perfect fit for professionals who want to bring a Christian worldview into their health management careers and for students who want a class schedule that accommodates their work, family and other obligations…
Longview, TX (PRWEB) February 10, 2012
The need for trained professionals in health care administration is staggering. The Bureau of Labor Statistics in 2011 reported that health care will generate $3.2 million in new wage and salary jobs in the decade from 2008 to 2018, more than any other industry, primarily due to the rapid growth among America's elderly population. Half of the fastest growing occupations today are related to health care. The growth of this sector is projected to grow 22 percent through 2018, compared to 11 percent for all other industries combined.
LETU's new Health Care Management and Administration degrees are offered completely online with a curriculum that blends Christ-centered, professional ethics with a strong understanding of the health care industry's systems and practices. Rigorous academic work will prepare graduates with the knowledge, skills and decision-making ability they need to succeed and have a positive, compassionate impact on the lives of others.
"These programs are a perfect fit for professionals who want to bring a Christian worldview into their health management careers and for students who want a class schedule that accommodates their work, family and other obligations – and who want to start immediately," said Carol Green, vice president for LETU's School of Graduate and Professional Studies. The program is affordable and attainable, and it focuses on not only physical and mental health, but also spiritual health. At traditional programs, this component is not always integrated into the course work."
The Associate of Science in Health Care Management degree provides students with entry-level skills to start in this growing industry.
The Bachelor of Science in Health Care Management prepares students to be effective leaders in health administration.
The Master of Science in Health Care Administration is designed for professionals who want to move into administration, expand their knowledge base, improve organizational effectiveness or manage their own health-related business. Graduate-level business and leadership courses prepare students for increasing responsibility within their organizations.
Classes will be taught by expert faculty with experience in the health care field and with a worldview that reflects the Christian faith in issues of ethics, integrity and call to service in the lives of the patients they will assist. The new degrees also will be offered on-ground in Fall 2012 at LeTourneau's Dallas education center.
LeTourneau works with students to transfer their previously earned credits toward these degrees, which can accelerate degree completion and reduce the overall cost of education.
LETU's three new health management degrees are accredited by the Southern Association of Colleges and Schools. They are designed to be affordably priced to help students attain their career goals. Federal financial aid is available for those who qualify. The graduate program does not require the GRE or GMAT exam for admission to the program for students with a college grade point average of 2.8 or higher.
LeTourneau University is an interdenominational, evangelical Christian university that offers academic majors in aviation, business, criminal justice, education, engineering, health science-nursing, human services, liberal arts, science and psychology. LETU was recently named the #2 Online Christian College & University of 2011 as ranked by The Best Colleges. LETU classes are held both online and at its main campus in Longview, Texas, and at educational locations in Austin, Bedford, Dallas, Houston, Athens, Harlingen and Tyler.
For more information on the three new health care administration degrees at LeTourneau University, go to http://www.adults.letu.edu or call toll free 1-866-430-5388.
###