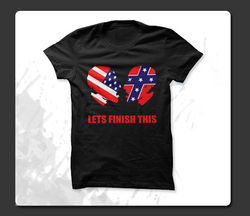 THE CIVIL WAR NEVER ENDED.....ONE SIDE JUST HAD TO STOP.
Beverly Hills, CA (PRWEB) May 24, 2010
The launch of a new grassroots campaign known as, Lets Finish This is making a simple, direct, and yet impactful statement. The campaign is depicted in a T-shirt, which has the provocative graphic image of two screaming faces...Almost immediately the viewer questions the meaning of the T-shirt. Who is it for? What is the purpose? Is it Democratic? Republican? Anti/Pro Southern? What is the meaning?
In fact the meaning is simple. The shirt is a call for unity, a platform for people to discuss the very issues we intentionally avoid, about the differences that exist among us. Wearing the shirt is an opportunity to step up, to be brave, and DO SOMETHING. The T-shirt has already aroused a series of debates, discussions, and controversy found on its Facebook discussion page as well as on multiple forums and political websites, including, American Spectator, Colbert Nation, Drudge Report, CBS, The O'Reilly Factor, Fox News, The Daily Show, and others.
While the grassroots campaign for unity is still at its beginning stages the idea is providing a platform. As said on the Lets Finish This website, "THIS IS NOT A CALL TO ARMS…..THIS IS A CALL FOR UNITY."
For more information visit: http://www.letsfinishthis.com
To purchase your T-shirt click here.
For Media Inquires: Please contact Amy L. Houck of 440 Artist Alignment at 310-461-3510 amy(at)440artistalignment(dot)com for more information.
# # #