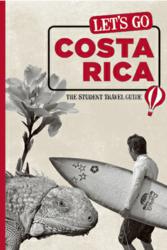 Cambridge, MA (Vocus/PRWEB) March 08, 2011
Whether your plans include lounging on a warm beach with a cocktail in hand, camping in the wilderness, or pursuing a volunteer opportunity, the time to start planning for spring break is now.
To help travelers plan the perfect spring break vacation, Let's Go Travel Guides is offering their top spring break trip ideas for 2011. From party hotspots to ideas for a "voluntourism" vacation, Let's Go has created a list that includes something for just about every type of traveler. Here are the top picks:
Costa Rica
Costa Rica might mean "rich coast", but you don't have to be wealthy to enjoy this country's natural wonders. From the beaches of the Pacific to the country's extensive natural park system, Costa Rica has something for everybody. Eco-tourism is the name of the game here, and volunteer opportunities abound. For the budget-conscious, a bare-bones day in Costa Rica (staying in hostels, eating from supermarkets) can cost as little as $20.
Belfast, Ireland
Everyone knows spring break and St. Patrick's Day overlap. There will definitely be big parties in Dublin, but Belfast— Ireland's up-and-coming city—is a nice alternative to the crazy party atmosphere. The University District is loaded with student bars, and the city (like most of Ireland) essentially stops running for the big day. Street fairs run wild and Guinness flows freely.
Greece
Greece is definitely one of those more-bang-for-your's-buck types of travel destinations. Athens has architecture and history, but each of the Greek islands is like a mini-vacation unto itself. Feeling adventurous? Try researching the different archaeological digs sometimes open to tourists. They might want a longer commitment than a week, but imagine coming home with stories of digging up ancient Trojan armor.
Iceland
The country that gave the world Björk and Sigur Rós just keeps on giving. Iceland is a budget traveler's paradise. The breathtaking hot springs outside of Reykjavik will have any visitor thinking they died and went to heaven. Bargain flights to Iceland are often easy to find from cities like Boston and New York, and Iceland is a great place to use as a base to fly to Europe.
The American South
The Southern U.S. offers not only warm weather and great Southern eats; it's also a great place to pursue a volunteer vacation. Even though Hurricane Katrina happened more than five years ago, there's still a great deal of work to be done. That said, cities like New Orleans and Savannah have plenty to do and see—and for American students, there's less worry involved than with other international travels. There's no shortage of organizations looking for volunteers, even short-term, so your spring break can be equal parts service and leisure.
As always, travel requires some advance planning and some "worst-case" contingency plans (when a volcano erupted in Iceland last year, more than a few vacations got postponed). Keep some extra cash handy, bring a book or two in case of delays, and definitely consider travel insurance. Companies like WorldNomads have a relatively simple application for insurance should disaster strike.
About Let's Go, Inc.
Let's Go publishes the world's favorite student travel guides written entirely by college students. With pen and notebook in hand, and a few changes of underwear stuffed in their backpacks, Let's Go student researchers go across continents, through time zones, and above expectations to seek out the best travel experiences. Let's Go has been on the road for 50 years and counting; and on a mission to provide readers with sharp, fresh coverage and socially responsible opportunities to go beyond tourism. Our website, http://www.letsgo.com, connects readers to our researchers—and each other—with blogs, photos, and the latest travel deals.
# # #