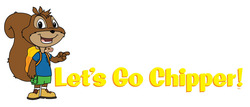 Families are truly mobile these days and we had already experienced kids responding to Chipper in a positive way and parents marveled at how quickly the messaging from the songs and stories resonated with their children
Corte Madera, CA (Vocus) September 15, 2010
Bay Area based, IAGmedia Inc, creators of conscientious programming for children primarily ages two to six, introduces its eco-educational app – Let's Go Chipper!™ Into the Great Outdoors – to the iPad/iPhone market today. With a mission to playfully excite, engage and educate children about nature, the Company is also launching its give back program; a portion of the proceeds from each download will go to Leave No Trace (http://www.lnt.org), an educational, nonprofit organization dedicated to the responsible enjoyment and active stewardship of the outdoors by all people, worldwide.
The company initially set out to create a TV series based on its premiere Let's Go Chipper Into the Great Outdoors video and book series but found the road to PBS, Nickelodeon and Disney long and paved in concrete rules and traditional mindsets so it took the path less traveled – and seemingly more natural given the evolution of mobile media.
"Families are truly mobile these days and we had already experienced kids responding to Chipper in a positive way and parents marveled at how quickly the messaging from the songs and stories resonated with their children," says creator Stephanie Rach-Wilson. "I didn't have time to wait for a 'green light' from Hollywood when I knew the opportunity to connect in a much bigger way was available to us in the app market ...plus the Chipper mascot costume is really hot and I needed to find a way to reach my goals with this program."
The biggest goal with each episode and story is: excite and ready our youngest children in a playful way and they will intuitively take care of the environment. The company's second goal is help raise funds for parks systems and environmental organizations that help sustain natural landscapes. A portion of proceeds of each app sale are donated to a designated charity every two months. Through October, the company is supporting Leave No Trace.
"We respect and appreciate what LNT teaches and our goal is to support the organization and help it educate children under six," says Ms. Rach-Wilson. "Chipper says: 'Keep your tail on the trail, and leave no trace' along with other rhyme-filled lessons which receive lots of giggles and dances down the path."
The initial download is robust offering an on-the-go tool for parents that is both educational and fun. It includes:

30-minute Into the Great Outdoors animated video
Two eco-groove music videos
eReader of Into the Great Outdoors companion book
Coloring pack
The download is priced at $4.99 and the company offers weekly gifts with initial app download.
Additional in-app purchases include animated books which continue the series with stories like "Out to Sea with Sally," and "Break it Down with Bruce" along with music and coloring activities. The Company will introduce games by December which will allow children to experience animals in their habitats and learn important lessons about the environment. To download from iTunes search "Let's Go Chipper" or directly at http://itunes.apple.com/us/app/lets-go-chipper/id365305372?mt=8.
Stephanie Rach-Wilson says it is her upbringing and personal mission to provide parents with a positive reinforcement tool to help eliminate the stress and put back in the fun of exploring the great outdoors with kids.
"Parents have replaced their childhood memories of swinging from trees and playing outside with the fear of getting hurt, lost, or dirty," says Ms. Rach-Wilson. "Our state and national park systems are suffering when they should be thriving and kids are being tagged with Nature Deficit Disorder because of lack of exposure to the outdoors."
The Company sells the physical products along with providing in school story times, kids nature zones, and event participation with its live mascot – Chipper. IAGmedia received iParenting Media's "Hot Product" award for the series.
IAGmedia is a Bay Area based family-lifestyle Company that playfully delivers good characters, programs and products that help instill positive life values and a respect for the environment. To learn more about the Let's Go Chipper series, please go to http://www.letsgochipper.com or call 415-927-2398.
###