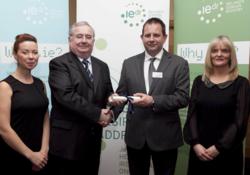 Moving from a shared platform to a virtualised or dedicated hosting service will help grow their online presence.
Dublin, Ireland (PRWEB) December 13, 2012
The Irish Domain Registry has today announced the 10 winners of its "100k Optimise Fund", at an Awards ceremony held an the Contad Hotel, Dublin.
The fund is aimed at enabling Irish SME and micro enterprises to begin upgrading their online presence to fully featured websites, incorporating e-commerce functionality and other facilities designed to support growth and development of their business online.
A presentation ceremony was hosted by Irish Domain Registry (IEDR) and attended by Communications, Energy and Natural Resources Minister, Pat Rabbitte, TD. Winners of the award each received their €10,000 award.
Hosting provider LetsHost provides web hosting services to three of the recipients of the awards, and was delighted to attend the ceremony.
"We will work with each of the Award winners to help them make best use of the funds," said Graeme Conkie, Director of LetsHost.ie. He continued, "Moving from a shared platform to a virtualised or dedicated hosting service will allow the Award winners the capacity to grow their online presence and expand their websites to avail of e-commerce technologies."
Based on the success of this fund in 2012, the IEDR have announced they will be extended the fund to a value of €150,000 for 2013.
About LetsHost
Since 2003, LetsHost.ie has provided comprehensive web hosting solutions for business and personal use. LetsHost ranks as a leader in reliable, effective and affordable hosting services for a range of corporate, ecommerce and private clients. Its customers include bloggers, small shops, resellers, medium-sized businesses and top companies. Today, thousands of SMEs trust LetsHost as they manage their website infrastructure, online presence and visitor experiences. LetsHost stands at the forefront of the Irish hosting market with unparalleled support and proven service.