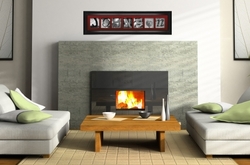 With our creative black and white letter photos, you can spell your name or a meaningful word, and then choose from our many frames and mattes to bring the whole piece together.
Tulsa, OK (PRWEB) September 21, 2009
Many people are tired of purchasing that mass-produced corporate piece of artwork that is in every other house on the block. Family-owned Letter Your Legacy offers custom framed letter art, designed by the shopper to fit their personality and style. "With our creative black and white letter photos, you can spell your name or a meaningful word, and then choose from our many frames and mattes to bring the whole piece together." says Stacy, their head photographer.
So what exactly is letter art? The skilled photographer of Letter Your Legacy has taken numerous pictures of things in the world that closely resemble letters. A dripping icicle forms an "E", while a winding pathway sculpts a smooth "S". Their photographer's uncanny eye for seeing these abstract letters is what makes Letter Your Legacy so unique. After compiling these letter photos into an alphabet with over twelve photos for each letter, our online design tool enables their customers to choose the letter art that reflects their own style and taste.
One of the best aspects of a Letter Your Legacy framed name is that it looks outstanding in any home. Their varieties of frame styles easily coordinate with any home décor from rustic to contemporary. This also makes it easy to give a framed name to someone even if the person doesn't know the style of the recipient's home. Letter Your Legacy framed names look great above a doorway, on a mantel, on a bookshelf, in a gathering of family photos, just about anywhere one can think of. People can spice up their home design with a Letter Your Legacy keepsake and they will love the style and sophistication it brings to the room.
Everyone gets frustrated when trying to find a gift for the person who has everything. Ordering a Letter Your Legacy framed name is a wonderful, one of a kind gift to celebrate a bride's new last name, an anniversary, the birth of a baby, or just a word of encouragement to those who need it. For those who like the personal touch of a homemade gift, but don't like starting from scratch, Letter Your Legacy is the perfect option. With their interactive frame builder, the user can pick out each letter photo and put it with the frame and matte they like the best. A personal gift without the mess and hassle!
The company name, Letter Your Legacy, describes what their business goal is all about. Being a family owned and run company, they understand the value of the legacy within each individual family. They want other families to share in the joy of their own legacy and show pride in their family name. Letter Your Legacy provides framed letter art as a way to celebrate family heritage.
Letter Your Legacy gives online shoppers exactly what they are looking for: a quality product without the marked up price tag. Letter Your Legacy strives for the highest quality and lowest price in framed letter art. They also offer surprisingly fast shipping time. Most custom designed products take weeks to finally arrive at the buyer's doorstep. However, Letter Your Legacy name frames ship within a week of ordering. This shipping time comes in especially handy for a last minute wedding or Christmas gift.
Framed letter art from Letter Your Legacy never disappoints! These beautiful pieces of artwork will look outstanding in any home. Shoppers only need to visit http://www.letteryourlegacy.com today and to get started designing their custom framed name.
###