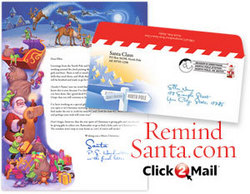 Deliver the Magic of the Holiday Season with a Letter from Santa
Arlington, VA (PRWEB) November 23, 2010
Click2Mail, a U.S. Postal Service affiliate and operator of a leading online postal mail system, announced today the launch of its annual Christmas project – Remind Santa – which allows customers to draft personalized letters from Santa that are hand-signed and delivered by mail. The service is available online at http://www.click2mail.com and $1 from every letter sent will go to support the National Center for Missing & Exploited Children® (NCMEC).
RemindSanta.com allows parents, grandparents and anyone else in the holiday spirit to go online and "Remind Santa" to send personalized, hand-addressed and signed letters from Santa Claus to anyone via the U.S. Mail, complete with an actual postmark from the North Pole. Each letter costs only $6.99, including postage.
"Remind Santa is a wonderful opportunity to help someone in your life have a great holiday while also helping to keep children safe," said Ernie Allen, President and CEO of the National Center for Missing & Exploited Children. "It is through the support of caring partners like Click2Mail and their customers that we are able to educate parents and children throughout the country about child safety."
"Every year our team looks forward to launching RemindSanta.com. We help parents to make children happy while supporting child safety in communities across America," said Lee Garvey, President of Click2Mail. "Keeping those happy children safe is our holiday goal and we encourage everyone to support the important work of the National Center for Missing & Exploited Children."
About Click2Mail
Headquartered in Arlington, Virginia, Click2Mail has been providing innovative online postal mailing services since 2003. Supporting individual users and thousands of businesses, nonprofit, academic, government and municipal organizations, Click2Mail offers Web-based tools for creating, personalizing and mailing a wide range of print-to-order postcards, letters and flyers as well as personalized holiday greeting cards, all at affordable prices. For more information on Click2Mail's services please visit the Click2Mail website at http://www.click2mail.com or call 1-866-665-2787.
# # #