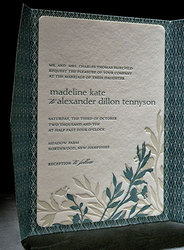 Greenwich, CT (Vocus) January 5, 2009
The renaissance in letterpress printing has been fueled by passionate artisans who embrace traditional printing methods, fine papers, respect for the environment and the application of digital technology. Nowhere is this more evident than the bold new letterpress wedding invitation designs that will kick-start the 2009 wedding season.
Letterpress can be traced back to the 15th century and the printing process has remained virtually unchanged for the last 500 years. Ink is applied to a raised relief plate which is then imbedded under pressure into richly textured paper stock, primarily cotton and cotton rag. Having frequented several studios, one continues to be surprised at how the press is calibrated by skilled artisans and how each invitation is hand-fed through the press. Thanks to digital technology, these talented artists can now create stunning designs using photopolymer plates. This new technology has greatly expanded customization options available for letterpress printing.
Letterpress designs are so varied that it is difficult to generalize. What strikes one immediately is the high-quality paper that is used for letterpress and the subtle colors that one might find in an impressionist painting. Letterpress wedding invitations can range from being very sophisticated to more whimsical designs incorporating motifs to depict certain aspects of the planned wedding activities. Each designer has its own distinct style and it is useful to see more than one sample of letterpress invitations to find a style that appeals to you.
Most letterpress designers only sell through well-established brick and mortar stores. The subtleties of the papers and printing process coupled with an infinite variety of customization options make it essential to see and touch sample papers before making your selection. Leading stores in your neighborhood that carry letterpress invitations may be found on the StationersGuild website.
The recent release of Crane & Co.'s letterpress wedding album is a clear indication of how popular letterpress printing has become. Both William Arthur and Vera Wang display a rich selection of letterpress designs in their wedding albums. Elaine Barker of Paper Potpourri in Haverhill, MA recently won an award at the William Arthur conference in Kennebunkport, ME for the best custom wedding invitation in a vote by her peers. Paper Potpourri featured a wedding paper ensemble consisting of hand-drawn motifs by the bride's mother that were incorporated into the letterpress wedding invitation, schedule of activities, save the date invitation and wedding program. This level of customization makes for truly memorable invitations.
While it is impossible to list all of the great letterpress designers, stationers were particularly struck by the wedding invitations by Smock Paper at this year's National Stationery Show. With designs by Amy Stigler, this upstate New York firm is producing letterpress invitations on arguably the most environmentally sustainable source for paper: bamboo. While some firms have experimented with bamboo, Smock Paper is probably the first company in the United States to do so on a sustained basis. Another company with its own distinct style is Mr. Boddington's Studio. The brain child of Rebecca Schmidt-Ruebensaal, Mr. Boddington's designs incorporate stylish font styles and stunning patterns which create an old-world feel embodied in a very contemporary design.
Julie Holcomb is probably one of the best known letterpress designers in the industry. For over 26 years, Julie has been at the forefront in shaping the industry as we know it today. Her uncompromising dedication, superior designs and focus on working exclusively through a very restricted and experienced dealer network has earned her considerable respect among her peers. One eagerly waits to see her new giclé printing process which allows custom images and artwork to be reproduced on the back of her invitations.
Information on other talented letterpress designers such as Dauphine Press, Oblation, Elum, Press NY and Wiley Valentine can be found on the StationersGuild website as well as the leading stores that carry many of these lines. If you are looking for truly distinctive custom wedding invitations, letterpress is certainly an option you should consider this wedding season.
###