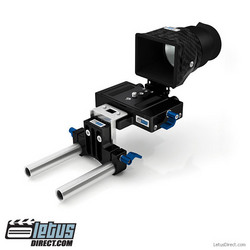 Letus products for the DSLR video market
Wichita, KS (PRWEB) May 27, 2010
LetusDirect.com introduces products for the DSLR video market. The Letus Hawk carbon fiber LCD viewfinder and Letus Talon camera support rod systems are the core of the product line.
The Hawk viewfinder is 100% custom designed and manufactured by Letus. It features three lenses in two groups adjustable from from +1.5 to -2.5 to accommodate near and far sighted users. The Hawk's optics are fully coated to ensure the best color fidelity while eliminating issues with fogging. The lenses are housed in a CNC machined aluminum lens tube. The shroud that attaches to the DSLR LCD screen is built with carbon fiber. The carbon fiber housing has a proprietary anti-glare internal coating and is designed to stand up to the rigors of a HDSLR production environment.
The Letus Hawk attaches to a DSLR without any modifications to the camera. It is fully adjustable for compatibility with a broad range of current and future DSLR cameras. To further enhance the usability of the Hawk viewfinder, Letus offers a full range of Talon support rod systems specifically designed for HDSLR cameras from Canon, Nikon, Pentax, Sony, and others.
The base of the Letus Talon line features a quick release camera plate. This allows the user to easily remove a camera from support rods for storage, transport, or simply to take still images. The Talon line also features an optional telescoping support rod setup that lets support rod accessories, such as a matte box or follow focus, slide in or out to accommodate different lens configurations.
The Letus Talon DSLR Cage has also been announced as part of the new product line. This cage is designed to house a HDSLR camera and provide mounting points for camera accessories such as monitors, microphones, sound recorders, hand grips, car mounts, and other products used in a production environment. The DSLR Cage features a sliding and removable top bridge, a releasable camera plate, interchangeable side supports for different camera heights, and a port on the bottom for easy camera battery access. It is designed as a modular system that can be configured for many different needs.
The Letus Talon family of products currently features five different pre-configured packages to meet varying needs and budgets. Some of the kits also include the Hawk viewfinder. All Talon support rod systems carry a lifetime warranty and are CNC milled from high quality aluminum and stainless steel. Other standard accessories will also be available as part of the Letus DSLR line up including pivoting hand grips and a universal shoulder mount. The Letus Talon and Hawk products are scheduled for shipping in mid-June. More information can be found on the Letus DSLR site at http://letusdslr.com
About LetusDirect, LLC.
LetusDirect.com markets high end 35mm adapters and camera accessories to a broad range of end users. Letus DSLR accessories for the film and television productions have been in development for some time based off industry experience and end-user feedback. Letus company philosophy is to keep margins down in order to offer high quality products at more affordable prices.
###