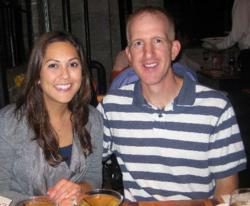 When they asked me if I would do it, I thought of my two young daughters and said 'Of course, I will. There's no way I could say no
San Francisco, CA (PRWEB) October 12, 2012
Team Perfect Match will be running together as a team in the Nike Women's Marathon on October 14, 2012 in San Francisco, California. Team Perfect Match's story began over five years ago. In 2006 when she was 18 and a college freshman, Kelley was diagnosed with both acute lymphoblastic leukemia (ALL) and acute myelogenous leukemia (AML). To be diagnosed with both forms is rare and unfortunately, there wasn't a chemotherapy regimen that could defeat both types of leukemia. Kelley's best option for survival was a bone marrow transplant.
Though her brother was willing and wanted to be a donor, unfortunately he wasn't a match for Kelley. So, she turned to the National Marrow Donor Program. Luckily, Joe, a United States Air Force pilot who lives on the East Coast, had registered in the donor pool years before and was a match for Kelley. Upon learning he was a match, Joe said, "When they asked me if I would do it, I thought of my two young daughters and said 'Of course, I will. There's no way I could say no,'" He says, "It has become the most significant thing I've ever done in my life." Joe had his bone marrow harvested and it was flown across the country where Kelley immediately received the transplant.
The transplant was a success. Thanks to Joe's bone marrow donation and UCLA's oncology staff, today Kelley is cancer-free. She and Joe have met several times since her transplant, including their first introduction at Disneyland. Following her recovery, Kelley decided to participate in The Leukemia & Lymphoma Society's Team In Training program to raise awareness for blood cancer research and treatment. She says, "When I told Joe I had signed up with Team In Training to run the Nike Women's Marathon, he said, 'How 'bout I do that with you?' I was thrilled!" Together, they formed "Team Perfect Match" and trained (across the country from each other!) through Team In Training. They'll reunite again in San Francisco to run in the Nike Women's Marathon on October 14, 2012.
Their story is an inspiration and highlights the importance of The Leukemia & Lymphoma Society's mission to help patients fighting against cancer and to come closer to finding a cure. Funds raised through The Leukemia & Lymphoma's Team In Training program support lifesaving cancer research.
The Leukemia & Lymphoma's Team In Training program offers options for athletes of all skill levels. Events include half, full and ultra marathons; hike adventures; triathlons; and cycling events. Visit teamintraining.org/sf or call 800.78.TRAIN to talk to a local Team Manager.
Stay up to date with Team In Training: like TNT SF Bay Area on Facebook, follow @TNT_SFBayArea on Twitter, or find them on Pinterest.
About Team In Training
Team In Training (TNT) San Francisco chapter offers Bay Area marathon training, half-marathon training, and triathlon training. Individuals can also train for cycling events and adventure hikes. TNT began in 1988, when Bruce Cleland of Rye, NY formed a team that raised funds and trained to run the New York City Marathon in honor of Cleland's daughter Georgia, a leukemia survivor.
The team of 38 runners raised $322,000 for LLS's Westchester/Hudson Valley Chapter. Because of the pioneering efforts of Cleland and the Westchester/Hudson Valley Chapter, Team In Training was born and has grown into the world's largest endurance sports training program. Cleland was honored by Runner's World magazine in 2004 as one of their "Heroes of Running" for his role in establishing TNT.
Whether participants choose The Leukemia & Lymphoma Society's traditional Team In Training program or TNT Flex, a flexible, customized online training option developed by TNT's renowned coaches, they get all the support they need to cross the finish line at the marathon, half marathon, triathlon, century ride and hike adventure of their choice. Both offer a choice of world-class events, travel arrangements to an exciting destination, and a fabulous, activity-filled weekend once they're there.
About The Leukemia & Lymphoma Society
The Leukemia & Lymphoma Society (LLS), headquartered in White Plains, NY, with 68 chapters in the United States and Canada, is the world's largest voluntary health organization dedicated to funding blood cancer research and providing education and patient services. The LLS mission: Cure leukemia, lymphoma, Hodgkin's disease and myeloma, and improve the quality of life of patients and their families. Since its founding in 1949, LLS has invested more than $750 million in research specifically targeting leukemia, lymphoma and myeloma.
For more information about blood cancer, visit http://www.LLS.org or call the LLS Information Resource Center (IRC), a call center staffed by master's level social workers, nurses and health educators who provide information, support and resources to patients and their families and caregivers. IRC information specialists are available at (800) 955-4572, Monday through Friday, 9 a.m. to 6 p.m. ET.