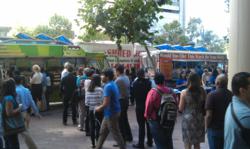 We came up with holding a food truck fundraiser because we were looking for something that not only would raise a lot of money for LLS, but that would also help us get the word out about Light The Night Walk to our employees and community
San Francisco, CA (PRWEB) October 16, 2012
Salesforce.com recently hosted a single-day fundraiser to benefit The Leukemia & Lymphoma Society's San Francisco Light The Night Walk that will take place on October 18. For this cancer walk fundraiser, salesforce.com hosted a set of food trucks at its bustling headquarters in downtown San Francisco.
Local food trucks Nom Nom and El Tonayese served up Vietnamese sandwiches and traditional Mexican fare, respectively, to eager lunch-goers that included salesforce.com employees, locals on their lunch hour and passing tourists who lined up to eat and show their support for The Leukemia & Lymphoma Society (LLS).
This unique fundraiser engaged both salesforce.com's employees and the public, raising more than $7,000 for the San Francisco leukemia walk in a single day. MaryAnn Patel, Senior Product Manager, Data.com, at salesforce.com explained, "We came up with holding a food truck fundraiser because we were looking for something that not only would raise a lot of money for LLS, but that would also help us get the word out about Light The Night Walk to our employees and community. Food trucks are so popular that it was a great way to catch people's attention to gather donations and raise awareness. Thanks to the support of executives in the company who subsidized the event, we were able to give 100% of the day's proceeds to LLS." While the minimum donation for the food truck lunches was $10, those collecting donations rarely saw a contribution under $20. At the end of the event, more than $7000 had been raised.
Salesforce.com has a history of supporting The Leukemia & Lymphoma Society. This year marks the third time salesforce.com will be participating in Light The Night Walk. Last year the company provided stiff competition for the top fundraising team, raising $60,000. This year, they have set their goals even higher.
The San Francisco cancer walk will be held on October 18, 2012. Light The Night Walk participants form teams to raise funds to support lifesaving cancer research. Anyone from children, adults and seniors can participate. Gather your friends, families, and coworkers and register today.
About Light The Night Walk
The Leukemia & Lymphoma Society's Light The Night Walk funds lifesaving research and support for people battling cancer. Friends, families and co-workers form fundraising teams and millions of consumers help by donating at retail outlets. The Light The Night Walk brings members of the community together, whether they walk as a corporate teambuilding event or in support of a loved one.
Light The Night Walk is an event for the entire community—children, adults and seniors are all welcome. It is a casual fundraising walk and teambuilding event with no fitness requirements. Every walker is encouraged to become a Champion For Cures by raising $100 or more to support researchers in their quest for more targeted, less toxic therapies for leukemia, lymphoma and myeloma.
Three walks will take place in the Bay Area. The North Bay leukemia walk will be held on Saturday, October 6, 2012, from 5:00 pm to 8:00 pm. Participants start at Courthouse Square in Santa Rosa. The San Francisco fundraising walk will be on Thursday, October 18, 2012, from 5:00 pm to 8:00pm starting at Union Square. The East Bay walk will take place on Saturday, October 27, 2012, from 5:00 pm to 8:00 pm starting at Civic Park in Walnut Creek. To register for a Light The Night Walk near you, visit http://www.lightthenight.org/sf.
About The Leukemia & Lymphoma Society
The Leukemia & Lymphoma Society (LLS), headquartered in White Plains, NY, with 68 chapters in the United States and Canada, is the world's largest voluntary health organization dedicated to funding blood cancer research and providing education and patient services. The LLS mission: Cure leukemia, lymphoma, Hodgkin's disease and myeloma, and improve the quality of life of patients and their families. Since its founding in 1949, LLS has invested more than $750 million in research specifically targeting leukemia, lymphoma and myeloma.
For more information about blood cancer, visit http://www.LLS.org or call the LLS Information Resource Center (IRC), a call center staffed by master's level social workers, nurses and health educators who provide information, support and resources to patients and their families and caregivers. IRC information specialists are available at (800) 955-4572, Monday through Friday, 9 a.m. to 6 p.m. ET.