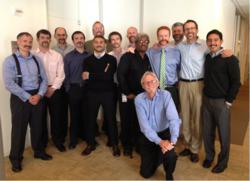 San Francisco, CA (PRWEB) October 17, 2012
A long-time Light The Night team, Marsh Risk & Insurance consistently comes up with unique and engaging company-wide fundraisers to support The Leukemia & Lymphoma Society (LLS). This year, they add mustache-growing (or "Marsh-stache" growing) to their fundraising repertoire.
The idea came to life during a conversation at a colleague's wedding - a challenge for Marsh Assistant Vice President, Juan Ramierez, to grow his mustache in return for a generous donation to his girlfriend's Team In Training webpage, which also supports LLS. As the idea evolved, so did the challenge. Juan's boss, Scott Lamb, agreed to shave his facial hair (for the first time in 25 years) if they could generate $2,000 in his name for LLS.
Back at the office, Juan decided to float the idea around to all of his colleagues to see if there would be any interest in growing mustaches for 2 months in a "Marsh-staches" fundraiser for LLS. Much to his surprise, 16 colleagues from across all levels of the organization (Senior Vice Presidents, Vice Presidents, etc.) agreed to grow their facial hair for 2 months and shave down to a pure mustache for the last three days of the event.
On October 10, the company held a Stache Competition where pageantry awards for the "Most Glorious Mustache" and the "Most Money Raised" were handed out. The award of "Most Glorious Mustache" went to John Rolph. And, Scott Lamb received the "Most Money Raised" honor, raising nearly $2,500 over the two-month competition. During the awards ceremony, several female Marsh employees paraded in with "false staches" to show their support for the campaign. Several employees also shared their personal connections to LLS' cause as sources of inspiration.
"Marsh-Staches" generated over $14,000, catapulting overall Marsh fundraising expectations. At the same time, colleagues also had a great time playing around with different facial hair styles and benefited from the tremendous amount of support they received from the office for their fundraising campaign.
All proceeds from "Marsh-Staches" went to benefit LLS. To support LLS and its mission to cure leukemia, lymphoma, Hodgkin's disease and myeloma, register to participate in Light The Night Walk. The San Francisco cancer walk will be held on October 18, 2012. Gather your friends, families, and coworkers to take part in the San Francisco leukemia walk and join the cause to support blood cancer research.
About Light The Night Walk
The Leukemia & Lymphoma Society's Light The Night Walk funds lifesaving research and support for people battling cancer. Friends, families and co-workers form fundraising teams and millions of consumers help by donating at retail outlets. The Light The Night Walk brings members of the community together, whether they walk as a corporate teambuilding event or in support of a loved one.
Light The Night Walk is a teambuilding event for the entire community—children, adults and seniors are all welcome. It is a casual fundraising walk with no fitness requirements. Every walker is encouraged to become a Champion For Cures by raising $100 or more to support researchers in their quest for more targeted, less toxic therapies for leukemia, lymphoma and myeloma.
Three walks will take place in the Bay Area. The North Bay leukemia walk will be held on Saturday, October 6, 2012, from 5:00 pm to 8:00 pm. Participants start at Courthouse Square in Santa Rosa. The San Francisco fundraising walk will be on Thursday, October 18, 2012, from 5:00 pm to 8:00pm starting at Union Square. The East Bay walk will take place on Saturday, October 27, 2012, from 5:00 pm to 8:00 pm starting at Civic Park in Walnut Creek. To register for a Light The Night Walk near you, visit http://www.lightthenight.org/sf.
About The Leukemia & Lymphoma Society
The Leukemia & Lymphoma Society (LLS), headquartered in White Plains, NY, with 68 chapters in the United States and Canada, is the world's largest voluntary health organization dedicated to funding blood cancer research and providing education and patient services. The LLS mission: Cure leukemia, lymphoma, Hodgkin's disease and myeloma, and improve the quality of life of patients and their families. Since its founding in 1949, LLS has invested more than $750 million in research specifically targeting leukemia, lymphoma and myeloma.
For more information about blood cancer, visit http://www.LLS.org or call the LLS Information Resource Center (IRC), a call center staffed by master's level social workers, nurses and health educators who provide information, support and resources to patients and their families and caregivers. IRC information specialists are available at (800) 955-4572, Monday through Friday, 9 a.m. to 6 p.m. ET.