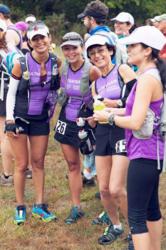 San Francisco, CA (PRWEB) January 10, 2013
In just four years, Team In Training (TNT) Ultra Team has seen an increase in trail running and ultra marathon participation. To accommodate this surge in interest, this team of nearly 50 members will be taking part in the Tahoe Rim Trail 50K (roughly 31 miles) and in various 50 mile events, including the Quicksilver 25K and the Rio del Lago 100K. Together, this small but mighty group will raise more than $100,000 for The Leukemia & Lymphoma Society (LLS) to advance new, life-saving blood cancer treatment research.
The ultra marathon training program is designed for experienced runners looking for the next challenge and includes three phases: base building, endurance building and distance. Training for the Tahoe Rim Trail run, which takes place July 20, 2013, will kick off on January 26, 2013.
On January 10, 2013 a special registration deal will be offered for those interested in participating in this run and others. Register online for the Ultra Team, or any TNT team, for the summer season for $10 using online code "TEN" at https://www.teamintraining.org/sf/firsttimehere/signup/. For more information about joining the TNT Ultra Team, visit teamintraining.org/sf or call 800.482.TEAM.
About Team In Training
Team In Training (TNT) is The Leukemia & Lymphoma Society's signature endurance sport fundraising program. Individuals raise funds to beat blood cancer while participating in marathon training, half marathon training, cycle century rides, triathlons or hike adventures. Dedicated to creating a world without blood cancer, The Leukemia & Lymphoma Society (LLS) invests in research, advocacy and patient services to accelerate cures, improve patient access to healthcare and save lives. To learn more, visit lls.org.
About The Leukemia & Lymphoma Society
The Leukemia & Lymphoma Society (LLS), headquartered in White Plains, NY, with 68 chapters in the United States and Canada, is the world's largest voluntary health organization dedicated to funding blood cancer research and providing education and patient services. The LLS mission: Cure leukemia, lymphoma, Hodgkin's disease and myeloma, and improve the quality of life of patients and their families. Since its founding in 1949, LLS has invested more than $875 million in research specifically targeting leukemia, lymphoma and myeloma. To learn more, visit lls.org.