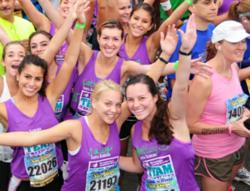 Flex gives TNT participants the option of training how they want, when they want.
San Francisco, CA (Vocus/PRWEB) March 25, 2011
The Leukemia & Lymphoma Society's Team In Training (TNT), the renowned charity sports training program with more than 22 years of experience training individuals for an endurance event or hike adventure, now offers a new way to train with the Team – TNT Flex. TNT Flex is a flexible, customized online training option that provides expert coaching with fundraising support for individuals of all fitness levels.
TNT Flex participants receive an individualized training program and weekly training communications from a dedicated TNT Flex Coach in their sport of choice. They also receive weekly fundraising communications and support from their team manager, mentor and online community. TNT Flex also offers participants an on-the-go smart phone training application to keep track of their progress from any location.
"Flex gives TNT participants the option of training how they want, when they want," says Barb Smalley, Senior Director. "The traditional TNT program is already designed for busy people with busy lives. Flex extends the same program to folks who have weekend commitments, travel extensively, live farther away from team trainings or simply prefer to participate in an online program."
TNT Flex participants also have the option to attend traditional TNT team trainings as their schedules permits, so longer-distanced workouts can be done in-person. On event weekend, TNT Flex participants meet up with their fellow teammates and enjoy all aspects of event weekend together including the inspiration dinner, the event itself and the victory party where teammates celebrate their achievement.
Teams are forming now for Team In Training's summer season and the event lineup includes the Nike Women's Marathon, Dublin Marathon, Levi Leipheimer's King Ridge Gran Fondo cycling event and the SF Triathlon at Alcatraz. Individuals interested in participating in the TNT Flex program have a few additional event options including: The Rock 'n Roll Savannah Marathon and Half Marathon, the Bank of America Chicago Marathon and the Nation's Triathlon.
To learn more about TNT and TNT Flex, visit http://www.teamintraining.org/sf.
About Team in Training
Team In Training (TNT) began in 1988, when Bruce Cleland of Rye, NY formed a team that raised funds and trained to run the New York City Marathon in honor of Cleland's daughter Georgia, a leukemia survivor.
The team of 38 runners raised $322,000 for LLS's Westchester/Hudson Valley Chapter. Because of the pioneering efforts of Cleland and the Westchester/Hudson Valley Chapter, Team In Training was born and has grown into the world's largest endurance sports training program. Cleland was honored by Runner's World magazine in 2004 as one of their "Heroes of Running" for his role in establishing TNT.
# # #